Sports
What did we just see? Five observations from Virginia's win at Florida State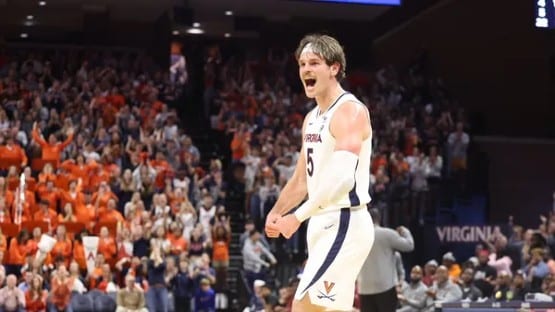 Ben Vander Plas needs to start at the five
Virginia is at its best, on both ends, when Ben Vander Plas is on the floor at the five.
Kadin Shedrick looks like the obvious guy at the five from a review of the analytics – he leads the ACC in box plus/minus, defensive box plus/minus and defensive rating, is second in blocked shot percentage and fourth in player efficiency rating.
Which is all well and good.
The thing with Shedrick being on the floor is, despite 69.1 percent shooting, he kind of just gets in the way on the offensive end.
One thing being, Shedrick can't really score on post-ups – he's only made three post-up baskets on five attempts this season, per Synergy Sports data.
He gets the bulk of his baskets on cuts off pocket passes, as the roll man on the back end of pick-and-rolls and off offensive rebounds.
Otherwise, his contribution to the offense is in setting screens.
The effect is that, with Shedrick on the floor on the offensive end, the defender guarding him can hang around in the lane and near the basket, which clogs up dribble-drive lanes for point guards Reece Beekman and Kihei Clark.
Without those driving lanes, Virginia, too often, ends up having to pass the ball around the perimeter more often than Tony Bennett would like to see to try to create open shots, and things can tend to stagnate when you have to go that route.
Vander Plas, when he's in on the offensive end, opens things up with his ability to hit the three – he's 32.8 percent on the season from three – but he's also, surprisingly, more of a threat down low than Shedrick.
According to Synergy Sports, BVP is a modest 7-of-15 shooting on post-ups, which isn't going to make opposing coaches game-plan ways to get the ball out of his hands in the post, no, but, he can score down low with his back to the basket if Bennett calls his number.
Vander Plas can hit the three, he can score in the post, and he can set screens, the latter of which is pretty much all you get right now from Shedrick.
And you've seen what Vander Plas getting more minutes has meant the past two games – the end of the 65-58 win over North Carolina on Tuesday, and then today in the 67-58 win at Florida State.
Virginia shot 12-of-23 from the floor, and 4-of-7 from three, with Vander Plas at the five in a four-guard lineup that outscored UNC 34-21 in the final 15:12.
Today, Virginia shot 45 percent from the floor and a season-best 11-of-22 from three, with Vander Plas getting 34 minutes, and Shedrick getting just five, subbing out at the 8:31 mark of the first half and never checking back in.
On the defensive end, and this is where you'll be surprised, Vander Plas more than holds his own on that end of the floor.
According to Synergy, BVP has allowed opponents to shoot just 17.2 percent – 10-of-58 overall – and they're scoring just 0.397 points per possession against him this season.
Shedrick is good, but not as good – Synergy has his opponents shooting 41.9 percent and scoring 0.787 points per possession.
Bennett has been telling reporters for the past few weeks that he's still trying to discover the right lineups and rotations for this year's group.
I think he's found what he was looking for.
High energy from Ryan Dunn
Another part of the lineups and rotations story may be freshman Ryan Dunn, who was solid in his 17 minutes off the bench, which was probably another factor in why Shedrick didn't get back in the game after subbing out midway through the first half.
Dunn had nine points on 4-of-7 shooting, including 1-of-2 from three, and also contributed four rebounds and three blocked shots.
Dunn's minutes haven't been consistent – he got a minute in the win over North Carolina on Tuesday, a DNP in the 73-66 win over Syracuse last weekend, and five minutes in the 68-65 loss at Pitt on Jan. 3.
At 6'8", and with the ability to hit the three – he's 3-of-8 from long-range in his limited minutes this season – Dunn can do similar things as what Vander Plas does in terms of helping providing spacing on the offensive end.
As long as he can hold his own defensively – according to Synergy, his opponents are shooting 35.7 percent and scoring 0.857 points per possession, the extra bit there in the PPP reflecting that he's played some minutes in the backcourt, and had to defend guys who put up more threes as a result – we should see him getting more minutes.
Quiet afternoon for Jayden Gardner
Dunn stole some minutes from Shedrick, and also from Jayden Gardner, who got 19 minutes on the afternoon, scoring three points (1-of-4 FG, 1-of-2 FT) and pulling down three rebounds.
This after Gardner got just 15 minutes (three points, one rebound) in the win over UNC on Tuesday.
Over his last four, Gardner is averaging a modest 5.0 points and 2.5 rebounds in 21.0 minutes per game, on 33.3 percent shooting.
Another big day for Franklin
Armaan Franklin put up a goose egg in Virginia's 66-64 loss at Miami on Dec. 22, and at that point, he'd been averaging 6.2 points per game over his past seven games, on 32.0 percent shooting from the field and 30.8 percent shooting from three.
He's been in double-digits in the six games since, with 20 today – on 8-of-13 shooting from the floor overall, and 4-of-7 from three.
His numbers over the past six: 15.5 points per game, 5.5 rebounds per game, 43.2 percent shooting from the floor overall, 41.0 percent shooting from three.
Odd foul discrepancy
Virginia was whistled for eight fouls in the second half before Florida State had been whistled for its second.
This despite the fact that it was Virginia that was consistently attacking the paint – for the day, UVA was 13-of-24 on shots at the rim; Florida State was 6-of-10.
You can almost always plot out free throw trips as a function of shots at the rim, but not today.
Virginia was 2-of-3 at the line on Saturday. Florida State, which otherwise hoisted up wild threes and low-quality mid-range jumpers, was 11-of-14, 9-of-10 in the second half.
You won't be surprised to learn that this was Teddy Valentine's crew calling the game today.