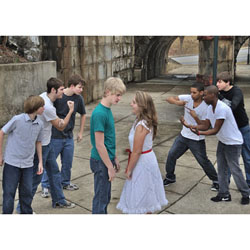 We have all heard the story of Romeo and Juliet, either through the original story or through the hundreds of adaptations. We know the characters, the star-crossed lovers, the polarized families, the hate, the passion, the tragedy. The fact that we already know this, and expect what was originally unexpected, makes it seemingly hard to successfully captivate an audience with the same or similar tale. However, this was a challenge that the Stuarts Draft Drama Department was eager to take on.
Amy Bussey, who teaches Drama I, II, III, IV as well as English 10A and 9A, and serves as the Drama Coordinator, Drama Club sponsor, VHSL One-Act coach and Forensics Coach, was the one of the two women who have steered this project towards it final product. The other was Miss Blouse, the Choral Director, who teaches both Intermediate Choir and Advanced/Show Choir. The two collaborated back in the Fall to decide what show they wanted to have their students perform. "I was looking at 'what kind of talent do we have in the school?', 'do we have the right mix of students for the roles in this particular show', 'is it something that teenagers are going to be interested in?'," Bussey said of the selection process.
"We both had wanted to do West Side Story since we started the musical program back up. Stuarts Draft went without a school musical for about six or seven years and the chorus director [Blouse] and I came in at about the same time and decided we wanted to revive that; that was 4 years ago. We've wanted to do West Side since then, just have never had the right number of kids, particularly the right number of boys to do it. It just takes a lot of boys; a lot of boys who can sing and dance and act. And we've got an incredible amount of talented young men right now, so it was the right year for us to do that."
Auditions for the cast took place early in December, and resulted with 50 cast participants. Also involved in the production are approximately 20 students serving as a set crew and a large number of parents willing to pitch in their support and time for the show.
"We have rehearsal 5 days a week when we get close to the show; sometimes 6 days a week, and even sometimes 7, so it takes a lot of work. If you're a lead role, obviously you're rehearsing more. None of the kids are all rehearsing 7 days a week; it's just us [Bussey and Blouse]. But they really have to make a commitment to do that. And we've got kids in the show that are also athletes, so those kids are doing double duty. They go to sports practice and then come to us, or have rehearsal and then go to sports, so they're really on top of things."
The show had just the right mix of drama, romance, violence, as well as touches of comedy. Bussey said her favorite scene in the play (and mine too) was the "Officer Krupke" number. In this scene, members of the Jets, one of the rivaling gangs in the story [the Romeo and Juliet equivalent to the Montagues] sing about teenagers being constantly referred to other departments with the intent of finding someone or something to blame for the way they behave. She felt that narrowing it down to one favorite part was a difficult task, explaining that, "there's just so many beautiful moments and the kids are really doing a great job. But I think probably "Officer Krupke" is my favorite overall. It's just fun, it's light-hearted, but it also shows the darker side of what's going on with these kids in the show."
The production ran its final showing this past Sunday. The show drew in quite a large amount of attention for a high school musical due to excellent advertising and word-of-mouth promotion between Stuarts Draft students and those at other school in the area.
"We feel really good about things. It's been a long process and this is a really difficult, complex show. From most of the other chorus and drama teachers around, we've gotten "aren't you guys crazy?" because we're doing this. So it feels really good to feel like we've done it justice and to know that we've got a great show."
West Side story is noted for its large dance and musical numbers; obstacles that the Draft cast were able to pull off convincingly due to their large number of participants. Also adding to the visual appeal of the show was period appropriate and colorful clothing, as well as a set that obviously took quite a bit of effort. The scenes called for street settings, a bridal shop, a drugstore, a place "under the highway" for the fight scene, a community center for dance, and an alley, complete with a fire escape for the balcony scene. All of these places were present on the Stuarts Draft stage, without having to over stretch your imagination.
The musical season for the region has officially started with West Side Story's success. Bussey stating, "I think it's amazing that for a school our size to have this much participation from the students and the parents as we do and to be tackling a project like this; it's really neat to see the whole community coming together to pull this off."
Story by Suzi Foltz. Suzi is an AugustaFreePress.com intern and a senior at Wilson Memorial High School.