U.S. Sen. Mark R. Warner (D-VA) sent a letter to the Federal Trade Commission (FTC) asking the agency about its efforts to protect children's privacy following several high-profile instances of children's data being hacked. This letter follows a letter that Sen. Warner sent to then-Chairwoman Edith Ramirez on July 6, 2016 urging the FTC to work with Congress to strengthen protections for children's personal information given the increase in apps and Internet-connected "smart toys."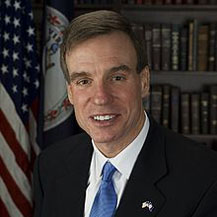 "Recent events have illustrated that in addition to security concerns with the devices themselves, new data-intensive functionalities of these devices necessitate attention to the manner in which vendors transmit and store user data collected by these devices," Sen. Warner wrote in his letter to Acting Chairwoman Ohlhausen. "Reports of your statements casting these risks as merely speculative – and dismissing consumer harms that don't pose 'monetary injury or unwarranted health and safety risks' – only deepen my concerns."
According to multiple media reports, CloudPets, a product line manufactured by Spiral Toys and marketed as 'a message you can hug,' stored customers' personal data in an insecure, public-facing online database. CloudPets reportedly exposed over 800,000 customer credentials and more than two million voice recordings sent between parents and children. Subsequent reports have raised questions about security at the device level, with individuals able to hack CloudPets' toys and remotely control the devices, including the microphone, if they are within Bluetooth range.
In his letter, Sen. Warner also asked Acting Chairwoman Ohlhausen about FTC action in relation to the children's doll "My Friend Cayla." In December 2016, privacy advocates filed a complaint with the FTC regarding the doll and concerns that it can be used for unauthorized surveillance. In February 2017, the Bundesnetzagentur, Germany's equivalent of the FTC, pulled "My Friend Cayla" off the market due to concerns over the doll's surveillance capabilities.
"We all know that many of these so-called 'smart' devices aren't so smart at protecting the safety and security of our kids," said James P. Steyer, Founder and CEO of Common Sense Media. "Children's toys with weak security can put not just kids' personal information at risk, but imperil even their innermost thoughts.  We applaud Senator Warner for his efforts to ensure that our laws and rules keep pace with rapidly changing technology."
"The expanding world of connected toys offers innumerable benefits to children through education and play. However, it is vitally important that parents can trust toymakers with their children's most sensitive information. Companies must take their responsibilities to families seriously and ensure that data is protected to the highest industry standards," according to Stephen Balkam, CEO of the Family Online Safety Institute (FOSI). "Congress, the FTC, parents, and industry all have a role to play. We are very grateful to Senator Warner for raising awareness of these important issues and look forward to working with him in the future."
Sen. Warner asked Acting Chairwoman Ohlhausen a number of questions regarding how the FTC has responded to the hack of CloudPets' database and its response to the complaint regarding the children's doll "My Friend Cayla." Sen. Warner also asked Acting Chairwoman Ohlhausen whether the Children's Online Privacy Protection Act (COPPA) needs to be updated to keep pace with developments in data security and cyber security best practices. Finally, Sen. Warner asked Acting Chairwoman Ohlhausen about her comments dismissing consumer harms that don't pose "monetary injury or unwarranted health and safety risks" as "speculative" and "subjective."
Sen. Warner, the Vice Chair of the Senate Intelligence Committee and former technology executive, is the Co-Chair of the Senate Cybersecurity Caucus and a leader in Congress on security issues related to the Internet-of-Things (IoT).