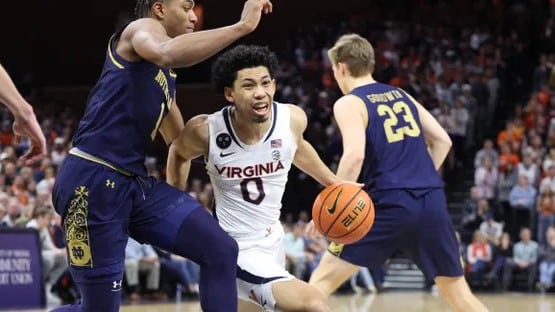 Once again Saturday, Virginia's Kihei Clark set a new UVA basketball record, and got an earful from the opposing coach in the postgame handshake line.
"I told Clark that hopefully it's the last time I'll see him," Notre Dame coach Mike Brey said after UVA's 57-55 escape over Notre Dame in John Paul Jones Arena.
Brey, when having time to think about that remark, might rethink it. Or maybe not.
Aside from the opportunity to play the Cavaliers in next month's ACC Tournament, which would require two Irish wins in the opening rounds, he will get his initial wish.
Brey is stepping away from the position he has held in South Bend for the previous 23 seasons at the conclusion of this season.
Brey continued his praise for Clark, saying, "He's the ultimate winner. I said, 'You're a big-time winner, man.'"
Earlier during the game, Clark became Virginia's all-time leader in assists, passing John Crotty, who was at the game.
On a Virginia team that has suddenly become consistently inconsistent, Clark remains steady, the straw that stirs the drink, if you will.
Today in the win, Clark had a team-high 15 points and four assists, and in next month's NCAA tourney, which is often guard-led, the fifth-year senior gives the team hope for a deep tournament run.
Currently the team is having its problems. Whether it is late-season fatigue or something else, the Cavaliers have been in survival mode against the bottom of the conference competition the last two outings.
On an afternoon when the shooting was simply bad for UVA (19-of-52 from the floor), Clark's penetration and dissection of the lane supplied some much-needed oxygen for the Cavalier offense.
"When you have guards, and you have Clark, who has an air of confidence about him to just win a game for you somehow, you're always going to have a chance. They can be a Final Four team, and I love the pieces around him," said Brey.
So again Saturday, Clark bailed out a struggling Virginia offense, as seemingly the Cavaliers' only possibility of getting a late-game score. Today against the Irish, Clark was the only Virginia player to score in the final six minutes of the contest.
After Ben Vander Plas sank a three-pointer to give UVA a 53-45 lead with 6:09 left, Clark made a driving, twisting layup with 3:27 remaining to make it 55-50 Virginia.
Clark sank two free throws to extend the lead to 57-54 with 22 seconds left, enough of a margin to allow the Cavaliers to survive a huge hit.
Clark continues to provide Virginia with the on-floor leadership that many expected in his unique fifth year of eligibility in Charlottesville.
Clark's been on larger stages than Saturday afternoon provided, and it clearly was on display.
Virginia fans can only hope for a few more encore performances.