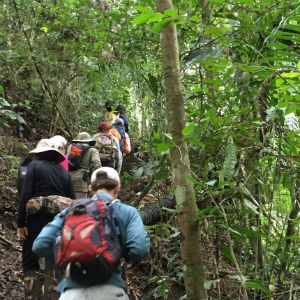 Ten Virginia Tech undergraduate students held onto their hats this summer as they plunged down Amazonian river systems into the heart of Ecuador.  At the helm of their canoes were Global Change Center researchers Ignacio Moore and Bill Hopkins. Moore organized the trip as part of the Tropical Biology and Conservation in Ecuador course.
Students from the departments of biological sciences in the College of Science and fisheries and wildlife conservation in the College of Natural Resources and the Environment were part of the trip that took place from May 16-June 7, 2016.
For Emily Reasor and Justin Matias it was an opportunity to learn about the importance of both local and scientific knowledge when it comes to using medicinal plants.
Tribes in northwestern Ecuador — the Kichwa and the Wharani — have used plants for centuries to treat conditions such as skin infections. But due to tribe members' isolated location in the Amazon rainforest, there is limited contact with the outside world, including modern medicine and technologies.
Reasor, of Crockett, Virginia, a rising sophomore in fish and wildlife conservation in the College of Natural Resources and Environment, and Matias, of Woodbridge, Virginia, a 2016 graduate of the Department of Biochemistry in the College of Agriculture and Life Sciences and College of Science, were taught by tribe members about their cultures and use of medicinal plants. They learned about two plants in particular—the Matico and the Kilum—that are most effective for treating infected wounds.
"We learned that Matico is an effective antibiotic—actually stopping bacterial growth— and that Kilum serves as a coagulant to prevent more bacteria from getting in the wound," said Matias.
The students wrote a report entitled "Medicine and Culture of the Kichwa and Wharani in Ecuador" based on both a scientific literature review and their experiences with the tribes. Their literature review uncovered that 80 percent of the population in developing countries still uses traditional medicines for their primary healthcare, an approximation supplied by the World Health Organization.
Prior to the trip, each student in the class was asked to design a research experiment to be performed in Ecuador.  With a shared interest in pharmaceuticals, Reasor and Matias teamed up.
"The thing that made this study abroad program stand apart from the rest was the fact that each student got to come up with their own project idea and carry out that idea through to the end," Reasor said. "Getting to do this in a field setting was one of the best learning opportunities I've ever had."