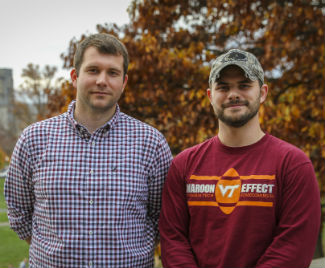 Trey VanHout of Roseland, Virginia, a junior majoring in materials science and engineering in the College of Engineering, grew up a Hokie fan. He said he loved the football team and Virginia Tech appealed to him as one of the best engineering schools in the nation.
After three years in the U.S. Army, serving in Afghanistan and being medically separated for injuries suffered there, VanHout is quick to share with fellow students his veteran status. "I'm pretty forthright with the fact that I'm a veteran, because it is such a big part of who I am."
Matthew Dyke of Winchester, Virginia, a sophomore majoring in mechanical engineering in the College of Engineering, served more than four years in the U.S. Marine Corps and spent time as a machine gunner in Afghanistan. His time in the military, he said, forced him to grow up quickly and adapt to circumstances around him. He said he feels welcome and appreciated at Virginia Tech but he also knows that being a veteran sets him apart from the majority of the student body.
"Military personnel have to give up individual liberties for the people of this nation so that their ability to exercise personal freedom is preserved," Dyke said, adding that he would like his fellow Hokies to think about student veterans and what they've experienced "to understand the gravity of what veterans have lost or had taken away from them in foreign lands."
Veterans Day can be a time of mixed emotions for student veterans. Both VanHout and Dyke talked about wanting to spend time with other veterans, to share privately what it means to defend freedom, and to think about the value and importance of sacrifice.
They also want those who haven't served to understand that veterans have been changed by their service. Dyke said he wouldn't trade that experience. "The pride I have for the military and my personal military experience is without bounds, just as my prior sacrifices to this country are without bounds."
The 300-plus veteran students enrolled at Virginia Tech are nontraditional students in many ways, including their ages and life experiences. VanHout is 29, and Dyke is 24. Both are active in the campus organization Veterans @ VT, VanHout as secretary and Dyke as treasurer.
Veterans @ VT formed in 2010 as a way to connect student veterans. Its members use service projects and social gatherings to form friendships, help veterans assimilate into the university community, and provide information about services and opportunities.
"This organization is essential to veterans here at Virginia Tech because it allows people who have served to meet others in their demographic," VanHout said. "I've met some great people through this organization, and they are the driving force behind veteran's advocacy here at Virginia Tech."
VanHout said he thinks Virginia Tech is moving in the right direction in supporting the needs of veterans. VetZone, which opened in Squires Student Center in August, provides a space where veterans can gather and hold meetings. A welcome reception for veterans hosted by the Intercultural Engagement Center drew a crowd of about 150.
Associate Dean of Students and U.S. Army veteran Anthony Scott said the university community is constantly seeking to improve on resources available to those who served.
"Virginia Tech established the Office of Veteran Services in 2012 to assist student veterans' transition to campus life," said Scott. "To help faculty and staff members understand what it means to be a veteran, the Diversity Development Institute teaches a class about student veterans' transitions from military culture to the Virginia Tech community.
"The most important aspect of transition is having a sense of belonging," Scott said.