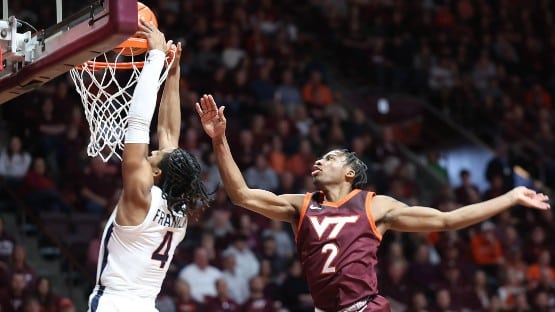 Virginia Tech got out to an early eight-point lead, then never gave it back up, on its way to a 74-68 win over fourth-ranked Virginia on Saturday.
It's hard to call it an upset – the data analytics sites had the game going a point in either direction ahead of this one – but there's no question that it's a huge win for the Hokies (14-9, 4-8 ACC), who had lost eight of their last 10 coming in, putting their postseason hopes on the brink.
They played like a team that knew the stakes, but to the credit of the Cavaliers (17-4, 9-3 ACC), they were able to hang around despite struggling to get anything resembling good offense going.
Virginia, which had won seven straight coming in, shot 41.0 percent for the game, and was just 6-of-18 from three, and yet the 'Hoos hung in there.
Tech led 32-30 at the break, and it was 41-40 Hokies after a Jayden Gardner post bucket at the 13:36 mark, when Virginia Tech went on a 11-2 scoring run over the next 3:37 to extend the lead to nine on a Sean Pedulla three that made it 52-43 with 8:59 to go.
Virginia would climb back to down three on a Reece Beekman drive into the paint that got the margin to 55-52 with 6:42 left, but that's as close as it would get.
Another 8-2 Tech run got it back to a nine-point game with 3:27 on the clock, this one from a Grant Basile three.
UVA was able to fight back to down four on five different occasions in the final 2:09, but Virginia Tech answered each time.
Highlights
Box score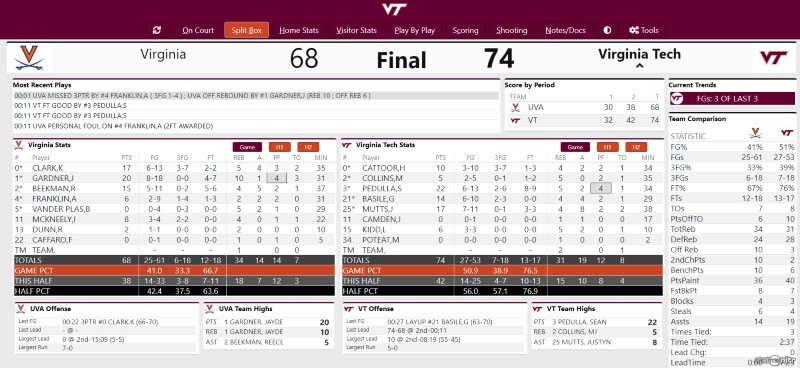 Inside the box score
Virginia Tech shot 50.9 percent, mostly fueled by actions that freed up runs at the rim – the Hokies were 18-of-27 on layups and dunks on the day, an otherworldly number.
Coming in, Virginia had been allowing opponents 8.8 makes on layups and dunks on 16.3 attempts, according to the data analytics site Hoop-Math.com.
Sean Pedulla, who had a quiet 10 points on 4-of-9 shooting in the 78-68 loss at Virginia two weeks ago, had 22 points in this one, shooting 6-of-13 from the floor, including 4-of-5 on layups.
Justyn Mutts also had a big game for Tech, with 17 points and eight assists. Mutts was 5-of-7 on shots at the rim.
On the Virginia side, Gardner had a team-high 20 points and 10 rebounds, but was just 8-of-18 from the floor.
Kihei Clark had 17 points, five rebounds and four assists, and Beekman had 15 points, four rebounds and five assists.
There just wasn't much help from the supporting cast.
Freshman Isaac McKneely had eight points, but only took four shots from the floor; Armaan Franklin had six points, but was just 2-of-9 on his shots on the day; and Ben Vander Plas put up a goose egg – zero points, 0-of-4 from the floor, 0-of-3 from three, with five rebounds and three assists in 29 minutes.