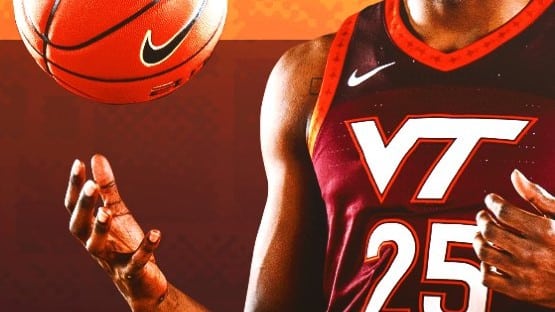 Virginia Tech got 22 points from Grant Basile, what else is new, right, and the Hokies notched another big win at the Cassell, knocking off league leader Pitt, 79-72, on Saturday.
It has to be frustrating for Tech fans to look at the pelts this team has – wins at home over Virginia, Pitt, Duke and North Carolina – and to still see their team buried in the ACC standings.
The Hokies (16-11, 6-10 ACC) is two and a half games back of UNC (16-10, 8-7 ACC) for ninth place in the conference.
The Tar Heels face NC State (20-7, 10-6 ACC) in Raleigh on Sunday afternoon.
The win on Saturday was the fifth in eight games for Virginia Tech, which had to play through a seven-game losing streak after spending a week in the AP Top 25 back in December.
Basile, the grad transfer from Wright State, has stepped up big-time to key that stretch. His 22 points on Saturday, on 8-of-13 shooting, has him averaging 23.6 points per game over his last eight, shooting 56.6 percent from the field and 39.6 percent from three-point range.
Mylyjael Poteat, a transfer from Rice, scored a season-high 15 points in 19 minutes off the bench for the Hokies, shooting 4-of-5 from the floor and 7-of-9 at the free-throw line.
Justyn Mutts, Hunter Cattoor and Sean Pedulla each scored 12 points for Tech, which shot 55.6 percent from the floor and connected on 9-of-19 (47.8 percent) from three.
The Hokies led 41-30 at the break, and Pitt (19-8, 12-4 ACC) was never able to get closer than five in the second half.
Jamarius Burton led the Panthers with 15 points.
Next up for Virginia Tech is another tough one, Miami (22-5, 13-4 ACC) on Tuesday at Cassell Coliseum.
The 'Canes defeated the Hokies 92-83 in Coral Gables last month.