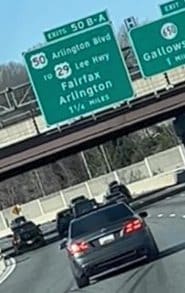 Virginia State Police is releasing a photo of a vehicle that was involved in a shooting on Interstate 495 in Fairfax County on Sunday with the hopes that it will help generate additional leads in the case.
The suspect vehicle has been identified as a matte-finish charcoal gray Mercedes E-Class AMG sedan with a sunroof and tinted windows.
The incident began shortly after 5 p.m. on Sunday, as the occupants of the Mercedes and a silver Chevrolet Silverado pickup truck began engaging in aggressive driving behaviors while traveling north on Interstate 495 in Fairfax County. Words and gestures were exchanged between the two vehicles.
As the vehicles passed under the Route 236 overpass on I-495, the front seat passenger in the Mercedes fired multiple rounds at the Silverado. The Mercedes then continued north on I-495.
The Silverado was not struck. However, one of the bullets continued across the travel lanes and struck a vehicle traveling south in the I-495 Express Lanes.
The driver of that vehicle was not injured.
Anyone who may have witnessed the shooting or road rage behaviors between the two vehicles prior the shooting or has information about the suspect vehicle/occupants is encouraged to contact the Virginia State Police by calling 703-803-0026 or emailing [email protected]. Anonymous tips are welcome.