Sports
Virginia softball coach Joanna Hardin looks to build on winning mark in 2022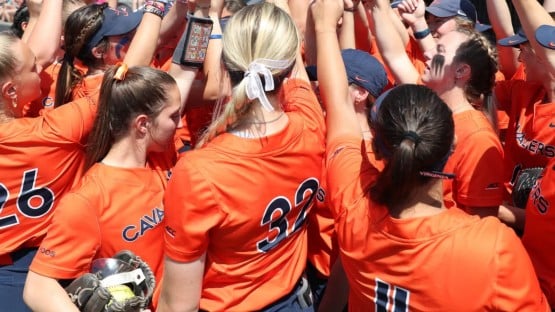 Spring sports season is right around the corner, and the Virginia softball team is ready to build off of last year's success with a few new additions.
Beginning on Feb. 9, the Cavaliers will kick things off in Texas with six games in four days to start the season.
In 2022, Virginia coach Joanna Hardin led the Cavaliers to their first winning campaign since 2012, finishing 28-26 overall (sixth place in the ACC), and also matched a school record for most conference wins in a season with a 13-11 mark in ACC competition. The 28 wins were the most in a season since 2010 (34-23). It was also the first winning record in the ACC for the Wahoos since 2010. As Hardin pointed out in the offseason, none of that success came as a surprise to anyone in the program, and she's looking for even more in 2023.
"I'm very proud of our team and how we competed the entire season," said Hardin, who's entering her seventh year in Charlottesville. "When any season ends, it is always hard to see your senior class go. [Last year's] class is really special because they are the bridge from the lean years in our program to where we are today. They have changed the standard and expectations for UVA softball and I am forever grateful for their loyalty and commitment to the program."
That senior class included graduate students Ashley Jennings and Kate Covington, along with Emma McBride, Bailey Winscott, Madi Wilson, Abigail Barker, Arizona Ritchie, Clare Zureich, Aly Rayle and Donna Friedman. Rayle started 15 times in the circle last season, registering a 5-5 record and a 2.91 earned-run average.
The Cavaliers won their series against fourth-ranked Notre Dame, nearly defeated Virginia Tech in Blacksburg, and came up short against third-ranked Florida State in the quarterfinal round of the conference tournament, but ultimately qualified for a postseason appearance in the National Invitational Softball Championship in Fort Collins, Colorado. UVA defeated Bowling Green, 10-2, in the double-elimination event before suffering back-to-back losses to Central Arkansas and Kansas to conclude the season.
Virginia ranked 12th out of 13 in the ACC in batting average (.252), eighth in earned run average (3.77) and second in fielding percentage (.974, best in program history). The Cavaliers also upped their home run total from 24 in 2021 to 43 last season, and posted a conference-best 12 saves.
Hardin brought in UNLV grad transfer Jenny Bressler, an impressive right-handed pitcher who was ranked as the No. 98 player in the country according to Extra Inning Softball, and was also named to D1 Softball's Preseason Top 100 list (No. 94).
Last season with the Runnin' Rebels, Bressler struck out 225 batters — the most in a single season in UNLV history — and has recorded 599 career strikeouts, which ranks fourth on the program's all-time list. She also recorded a school-record 12 career saves (a single-season-best six as a senior), and has a career ERA of 1.90.
Bressler won 78 games in her four years in Vegas — second-most ever for any Runnin' Rebel — and her career winning percentage (.781) is not only tops for any UNLV pitcher, but also every player to have ever thrown a pitch in Mountain West Conference history.
"We are so excited to add Jenny to the UVA softball family," said Hardin. "She is a great fit for our program and her experience and success at UNLV is a huge addition to our bullpen. We are grateful she will finish out her collegiate career as a Cavalier."
Along with Bressler in the circle, Hardin will have experienced seniors Molly Grube and Mackenzie Wooten back, along with juniors Mikayla Houge and Madison Harris, who set the program's single-season saves record in 2022 with six. Houge started 15 games last season (9-6, 3.73 ERA) and Grube added a dozen starts (3-4, 4.76 ERA), while Wooten (4-2, 2.62 ERA) appeared in 21 games, starting one. Junior Savanah Henley (8 starts, 6-7, 5.14 ERA) is also an option.
In the infield, junior Leah Boggs, rated the No. 23 catcher in the nation in Extra Innings' top-25 list at that position, is back behind the plate. She caught an ACC-best 16 baserunners stealing last season, while producing a fielding percentage of .991. Boggs was solid with the bat as well, with a .289 average and team highs of 46 hits and 13 doubles to go with 4 homers and 24 RBI.
Sophomore third baseman Sarah Coon was named to the ACC's All-Freshman Team after leading the team with a batting average of .291 and an on-base percentage of .952.
Graduate student Tori Gilbert is back for a fifth year as the designated hitter. She scored a team-best 35 runs and shared the lead in home runs with 12 with senior shortstop Katie Goldberg, who also drove in a team-high 36 runs. Senior Gabby Baylog (.273 average, 15 RBI) is back at first base, but the Cavaliers will have to replace Ritchie (52 starts, .213 average, 14 RBI) at second.
The outfield will likely consist of sophomore left fielder Kailyn Jones (20 starts, .212 average), junior center fielder Lauren VanAssche (44 starts, .273 average) and junior right fielder Abby Weaver (32 starts, .242 average), but there are a few newcomers and other returning players who could also challenge for those spots.
This year's freshman class is loaded with talent and potential, and includes two pitchers (Eden Bigham and Courtney Layne) and a pair of infielders (Kelsey Hackett and Jade Hylton), along with outfielder Kassidy Hudson and catcher/utility player Mary Caroline Eaton. All but one of them was ranked in the top 100 nationally, and they should all help provide immediate depth.
Bingham was rated the 10th-best pitcher and 28th-best recruit, while Layne was not far behind (14th-best pitcher, 35th-best overall), according to Extra Inning Softball. Eaton was listed as the 18th-best catcher (No. 53 overall), Hylton was the 38th-best middle infielder (No. 56), while Hudson was the No. 49 outfielder (No. 92) and Hackett was the No. 21 infielder (No. 103).
"We have athletes coming in that class that have won state championships in high school, they've won championships with their club teams, so winning is an expectation," Hardin said of the first-year group.
The future is bright as well, as Virginia inked a stellar six-player recruiting class for next season that was ranked in the top 20 nationally. Five of the six were ranked among the top 100 in the country by Extra Inning — RHP Julia Cuozzo (Mechanicsville, Va.) was No. 23; 1B Macee Eaton (Wheelersburg, Oh.) was No. 31; infielder Bella Cabral (Choctaw, Okla.) was No. 51; C/3B Melissa Carr (Windsor, Va.) was No. 60 and infielder Brie Biddle checked in at No. 100. In addition, Kamyria Woody-Giggetts (Halifax, Va.) will join the Cavaliers' outfield.
"Our 2023 signing class is a compilation of speed, power, utility and specialty positions," said Hardin. "We believe Bella, Macee and Melissa will make an immediate impact offensively. Julia is a proven winner; her competitive experience, both in high school and travel ball, brings more championship mindset and talent to the circle."
The coach added that both Biddle and Woody-Giggetts can be used as "Swiss Army knives," and expects both to play key roles in the overall success of the team in the years to come.
"Brie's size, strength and defensive utility give her the unique ability to play multiple positions with a ton of offensive upside," said Hardin. "Kamyria has an elite run tool; she is athletic, engaging and competitive. This signing class moves the needle in furthering our championship program pursuit. We can't wait for this class to get to Charlottesville next fall."
It all starts in less than two weeks in Houston on Feb. 9, as UVA takes on Lamar at 4 p.m. and the host Cougars at 7 p.m. on Thursday, then skips over to Huntsville on Friday (Feb. 10) to face Sam Houston State.
The Hoos will then rematch with Lamar (11 a.m.) and Houston (6:30 p.m.) on Saturday before wrapping up the weekend against Nebraska at 11 a.m. on Sunday, Feb. 12.
Virginia remains on the road for a trip to UNC Greensboro on Thursday, Feb. 16, and then will play two each against Maryland and Minnesota that same weekend in Chapel Hill as part of the ACC/Big Ten Challenge.
UVA opens the home slate at Palmer Park with the Cavalier Classic (Feb. 23-26), and will go up against Longwood, Maryland-Eastern Shore, St. John's, Howard and George Washington over the four-day event. The Hoos will play seven additional home games before heading back out on the road. The ACC slate begins on Friday, March 10 at home against Georgia Tech. This year's conference tournament will be held on the campus of Notre Dame from May 10-13.