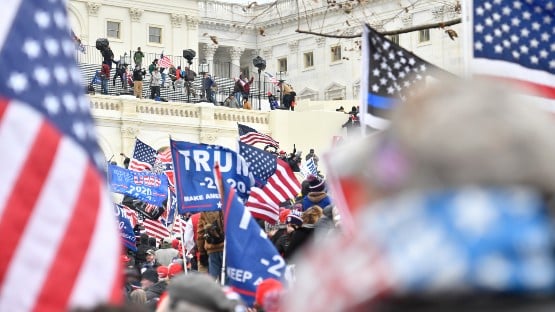 A Virginia man was arrested Wednesday on felony and misdemeanor charges, including assaulting law enforcement, related to his actions during the breach of the U.S. Capitol on Jan. 6, 2021.
Jared Miller, 37, of Chesapeake, is charged in a criminal complaint filed in the District of Columbia with felony offenses of civil disorder and assaulting, resisting or impeding certain officers.
In addition to the felonies, Miller is charged with multiple misdemeanor offenses including knowingly entering or remaining in any restricted building or grounds without lawful authority; disorderly and disruptive conduct in a restricted building or grounds; engaging in physical violence in a restricted building or grounds; obstruct, or impede passage through or within, the grounds or any of the Capitol buildings; and violent entry and disorderly conduct.
In the 31 months since the breach aimed to disrupt the electoral vote count, more than 1,100 individuals have been arrested for crimes including more than 350 people who have been charged with assaulting or impeding law enforcement.
Miller made his initial appearance in the Eastern District of Virginia.
Miller was identified as Be on the Lookout #151 on the FBI's seeking information photos.
This case is being prosecuted by the U.S. Attorney's Office for the District of Columbia and the Department of Justice National Security Division's Counterterrorism Section. Assistance was provided by the U.S. Attorney's Office for the Eastern District of Virginia.
View additional people wanted for assault of media or of a federal police officer.
Anyone with tips may call (800) 225-5324 or visit tips.fbi.gov.
Court documents: Timeline
According to court documents, Miller attended a rally in Washington, D.C., on Jan. 6, 2021, and afterward walked to the United States Capitol building, where he entered the restricted grounds on the west side.
Miller then joined a mob that had broken through multiple barriers and police lines. Soon, the mob, including Miller, became increasingly hostile towards United States Capital Police officers, pushing officers back to the base of the Inaugural stage.
1:12 p.m. Several units of Metropolitan Police Department officers arrived at the West Plaza to assist USCP officers in crowd control. Miller and other rioters were held back behind bike rack barriers as MPD and USCP set up a line to prevent rioters from advancing. At about 1:16 p.m., the north side of the police line was breached by rioters. Closed-circuit television captured Miller joining this breach, first as he pushed an unidentified MDP officer and then he shoved an officer as the officer attempted to rejoin the police line.
1:21 p.m. Miller is seen on body-worn cameras dragging a bike rack away from the northern side of the police lines. Miller then re-engaged with police, striking both USCP and MPD officers and driving barricades back into the police lines. Miller then grabbed an adjacent barricade and ripped it from unidentified MPD and USCP officers, who were pulled away with the barrier before regaining control. Miller is also captured on BWC as he reached over the barriers to hit officers before walking away from that portion of the police line.
1:36 p.m. Miller eventually walked to the center of the West Plaza police line and is captured on body-worn camera footage tossing a water bottle at MPD officers. Miller remained on the restricted grounds, eventually making his way to the Lower West Terrace after the West Plaza police line was overrun.