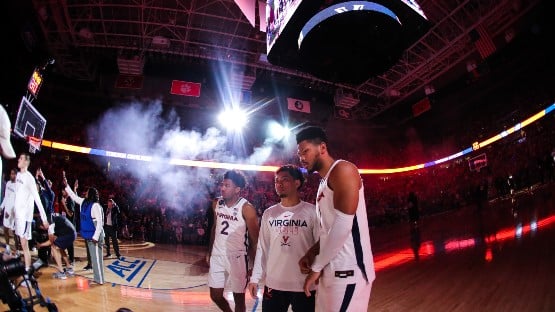 Virginia is the four seed in the South Region, and will play SoCon champ Furman on Thursday in sunny Orlando.
Ah, Orlando, an easy and relatively inexpensive flight from Charlottesville and Richmond.
And where it will be 77 degrees outside on Thursday, with no chance of rain, as you make your way to the Amway Center, the home of the NBA's Orlando Magic.
Tickets
Ticket requests for NCAA Tournament first and second-round games for eligible donors out of Virginia's allotment are online at VirginiaSports.com. Donors should use their registered online account and will be notified via email when they can place their request.
Tickets may also be requested by calling the Virginia Athletics Ticket Office at 1-800-542-8821 on Monday from 9 a.m. until 5 p.m.
The deadline to request tickets is Monday at 5 p.m.
Donors who place a request will be notified by email Tuesday the status of their request.
All tickets for the 2023 NCAA Men's Basketball Tournament will be delivered electronically.
Tickets outside of Virginia's seating block may be available to purchase through the NCAA. Visit NCAA Ticketing to review ticket availability and to purchase tickets.
For more information on ticket availability in Virginia's block throughout the 2023 NCAA Tournament, click here.
What to know about Furman
Furman, the #13 seed in the South, (27-7, NET: 88) is the automatic qualifier from the SoCon.
The Paladins had an 0-2 record in Quad 1 games this season – the losses to two NCAA at-large teams, NC State (92-73, Dec. 13) and Penn State (73-68, Nov. 17).
Their best win was UNC Greensboro (NET: 113), which Furman split with in the regular season, winning 69-57 at UNCG on Jan. 29, losing at home, 88-80, on Jan. 14.
There were two Quad 4 losses on Furman's ledger – High Point (NET: 290), 85-82, on Dec. 6, and The Citadel (NET: 331), 69-65, on Feb. 15.
Per KenPom.com, Furman averages 68.5 possessions per game – Virginia averages 61.6, and the Cavaliers, as you know, dictate pace.
KenPom tells us that Furman is a top 10 percent team in terms of offense – averaging 1.142 points per possession, ranking 33rd nationally.
Defensively, they're below average, allowing 1.058 points per possession.
Rotation
The nine-man rotation has four guys at the top averaging double-figures in scoring: 6'3" senior Mike Bothwell (18.0 ppg, 51.9% FG, 33.8% 3FG), 6'7" senior Jalen Slawson (15.7 ppg, 7.1 rebs/g, 55.6% FG, 39.4% 3FG), 6'1" sophomore JP Pegues (12.0 ppg, 4.0 assists/g, 42.3% FG, 34.9% 3FG), and 6'4" junior Marcus Foster (10.6 ppg, 5.2 rebs/g, 42.6% FG, 36.4% 3FG).
The fifth starter is 6'9" junior center Garrett Hien (8.0 ppg, 4.1 rebs/g, 54.0% FG, 36.6% 3FG).
The bench:
6'5" sophomore Alex Williams (6.2 ppg, 46.2% FG, 35.4% 3FG)
6'7" freshman Ben VanderWal (5.1 ppg, 49.5% FG, 27.6% 3FG)
6'6" sophomore Tyrese Hughey (5.0 ppg, 58.3% FG, 34.7% 3FG)
6'3" sophomore Carter Whitt (2.7 ppg, 31.4% FG, 27.3% 3FG)
Quick look at the rest of the bracket
The winner of the Virginia/Furman game plays the winner of the 5/12 game between San Diego State (27-6, NET: 14) and College of Charleston (31-3, NET: 51) in the Round of 32 on Saturday.
The team to emerge from that side of the bracket in the Orlando pod would be expected to face the top seed in the South, Alabama (29-5, NET: 2) in the Sweet 16.
'Bama would have to get past the winner of an interesting 8/9 game between Maryland (21-12, NET: 31) and West Virginia (19-14, NET: 24) in the Round of 32.
On the bottom part of the bracket, the #2 seed is Arizona (28-6, NET: 10). The three seed is Baylor (22-10, NET: 15).
Virginia, you may remember, played Baylor in Las Vegas back in November, winning, 86-79.
NC State (23-10, NET: 45) is the 11 seed in the South. The Pack will face #6 seed Creighton (21-12, NET: 17) in the first round.