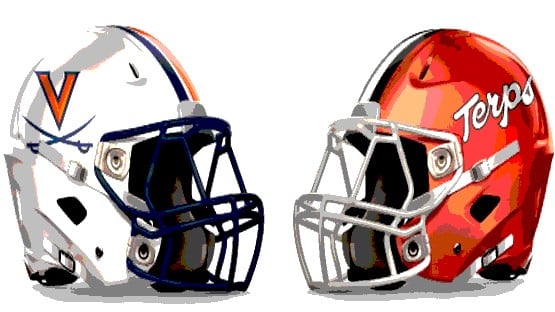 UVA led 14-0 two drives into the game, but the special teams, again, weren't all that special, allowing a first-quarter kickoff-return TD, and Maryland dominated the second half on its way to a 42-14 thumping of the still-winless 'Hoos on Friday night in College Park.
True freshman Anthony Colandrea got the surprise start at QB for UVA (0-3), and led scoring drives on the first two offensive possessions – the first score coming on a 13-yard Perris Jones TD run, the second on a 19-yard TD pass on a nice wheel-route from Colandrea to Kobe Pace that made it 14-0 'Hoos.
Maryland answered the second score with a 98-yard kickoff return for a TD from Braeden Wisloski, and the game would stay there for an uncomfortable while for the heavy home favorites, who wouldn't get the tying score until 1:23 was left in the first half, on a Roman Hemby 3-yard TD runb that sent the teams into the break tied at 14.
The Terps (3-0), 14.5-point favorites coming in, would finally the lead for good early in the third on a 64-yard scoring pass from Taulia Tagovailoa to Jeshaun Jones.
Colandrea drove Virginia to the Maryland 12 on a drive that extended into the fourth quarter, but a Colandrea third-down pass intended for Malik Washington in the right corner of the end zone was underthrown, and picked off by Terps defensive back Tarheeb Still.
Maryland would put the game away on the ensuing drive, a nine-play, 80-yard march ending with another Hemby TD run.
Colandrea, in his second college start, would pass for 263 yards and a TD, completing 23 of his 39 pass attempts, but he was picked off three times, all in the fourth quarter, and he was just 11-of-24 passing for 121 yards in the second half.
Virginia did have its best game this season in getting yards on the ground, relatively, modestly, going for 124 sack-adjusted rushing yards on 29 attempts for a 4.6 yards-per-carry average, and the offensive line only allowed two sacks, which, again, relative, modest improvement there for that unit.
Washington, the Northwestern grad transfer, had a big game through the air, hauling in nine catches on 13 targets for 141 yards, including a 49-yarder on the first play from scrimmage, on a flea-flicker from Colandrea.
Tagovailoa ended up passing for 342 yards and a TD, completing 19 of his 30 pass attempts, as Maryland rolled up 461 yards of total offense, to Virginia's 354 total yards, 148 of which came in the first quarter.