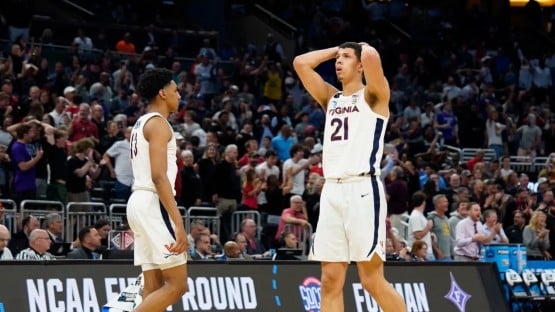 Kadin Shedrick is, from what we're hearing, telling his soon-to-be-former Virginia teammates that he is likely going to transfer to hated ACC rival Duke.
And you thought Justin McKoy transferring to North Carolina got folks riled up.
McKoy barely played in his two seasons in Chapel Hill. Shedrick, for his part, wouldn't necessarily be expected to start at Duke, which signed three five-star power forwards in its 2023 recruiting class, but he could push the young guys in the frontcourt, and at worst be a valuable contributor off the bench.
Duke coach Jon Scheyer has widely been expected to be looking for a veteran big on the transfer portal, and Shedrick, a 6'11" native of Holly Springs, N.C., a 30-minute drive from Durham, would fit the bill there.
Shedrick, in his 15 starts this past season at Virginia, averaged 9.3 points, 4.8 rebounds and 2.0 blocks per game, shooting 69.0 percent from the floor.
He lost his starting spot midseason to Ohio U. grad transfer Ben Vander Plas, then found himself glued to the bench for the next two months, logging just 107 minutes over a 14-game span in which he was a healthy scratch in three games.
Shedrick's minutes increased when Vander Plas was lost for the season with an injury on the eve of the ACC Tournament, then got his starting job back for Virginia's NCAA Tournament first-round game with Furman, in which he scored 15 points, grabbed 13 rebounds and blocked four shots.
Even with the strong end to his redshirt junior season, it was not a surprise that Shedrick entered the transfer portal, considering how the rest of the 2022-2023 season played out for him.
Wherever Shedrick ends up, he'd have his UVA degree, and then two years of eligibility remaining to work toward a master's or two.