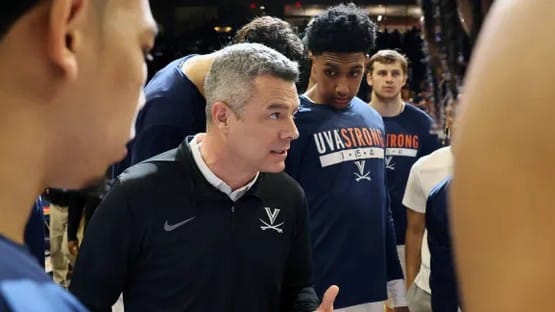 Unlike the rest of the nation's sports fans who look forward to this weekend with great anticipation, I find this week to be the worst of the year. I sit on pins and needles waiting for UVA's first game, hoping against hope that they will play up to their seed. 
I understand these are one-and-done anything-can-happen affairs, and I get that it's a national trend to pick underdogs, but the thing I fear most — an early exit — is now an accepted truism of the sports cognoscenti. (Did you catch the three experts in CBS predicting Virginia will lose literally seconds after the bracket announcement on the Selection Show?)
And it annoys me a lot, not only because I hate to hear my alma mater dissed, but because it seems to be true. Aside from one magical season (which itself was preceded by the UMBC season), when has it not been true?  Virginia habitually underperforms, and I wonder if you could offer insights into why. 
Is it the slow pace of play that seems to put the pressure on UVA when the other team makes some shots? Is it the presence of a take-the-game-over star that even Podunk U seems to have and we don't?  What gives here? 
I know you have an actual job to do, but if you get a moment … if you can't, I totally get it.  
Thanks as always for all the insightful analysis of the good, the bad, and yes, the ugly of Virginia sports. 
Scott W.
---
I think it's in the DNA of UVA hoops fans to be a bit self-doubting and self-loathing. I speak from experience there!
I'd write off the loss to Ohio two years ago, because of the COVID quarantine.
UMBC … I was in the arena that night. I will always refer to that night as "the night the bad thing happened."
Other than those two, I think we actually perform decently well.
The 2014 team got to the Sweet 16.
The 2015 team had a weird setup – looking back, bringing Justin Anderson back too quickly after the finger injury and the appendicitis was a bad idea.
The 2016 team was too close to the Final Four. I still think that loss is infinitely more painful than UMBC, if only because without De'Andre Hunter, the 2018 team wasn't going to get much further.
The 2017 team was a five seed, somehow, and won a game in the first round. The loss to Florida in the second round was … ugly.
By my math, our guys are 13-6 in NCAA Tournament games since 2014.
Now, this all said, yes, I'm on edge looking ahead to Thursday, but I think we have a Sweet 16 team, and if we get that far, and Alabama is there waiting for us, as expected, that one can be an interesting game.
I wouldn't want to be 'Bama as the prohibitive favorite having to go through the meat grinder for 40 minutes.
This probably doesn't answer your question. I tend to be a glass half-full guy when it come to UVA hoops. (Not so much when it comes to UVA football).
Thanks for writing. Wahoowa!