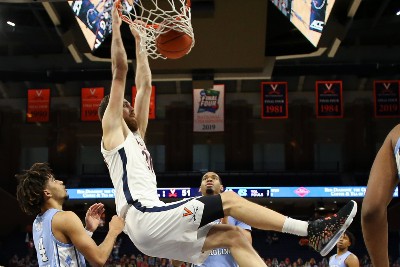 The Washington Wizards have signed former Virginia basketball standout Jay Huff to a two-way contract.
The 7'1" forward, a 2020 UVA graduate, averaged 14.3 points, 7.9 rebounds and 3.6 blocks per game, shooting 63.6 percent from the floor and 40.0 percent from three with the South Bay Lakers in the G-League this season.
Huff signed his first NBA contract – an Exhibit 10 deal – with the Wizards after going undrafted out of Virginia in 2021.
After being waived by the Wizards that fall, Huff signed a two-way deal with the Lakers, and he has spent the bulk of his first two seasons at the professional level in the G-League.
Huff is eligible to be active for a prorated portion of the usual 50-game limit for two-way players, meaning he could be active for up to 12 Wizards games.
Huff averaged 7.6 points, 4.5 rebounds and 1.6 blocks per game over his four seasons at Virginia. As a redshirt senior in 2020-2021, Huff averaged career-bests in all categories – 13.0 points, 7.1 rebounds and 2.6 blocks per game, and shot 58.5 percent from the floor and 38.7 percent from three.