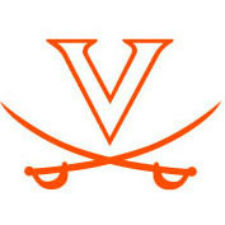 The fourth-ranked Virginia men's tennis team had its 2014 season come to an end Monday with a 5-1 loss to top-ranked USC in a NCAA semifinal match at the Dan Magill Tennis Complex. The Cavaliers conclude the season with a 27-3 record, while USC (31-3) will meet Oklahoma in Tuesday's championship match.
USC opened the match by winning the doubles point to take a 1-0 lead. Connor Farren and Roberto Quiroz topped Thai-Son Kwaitakowski (Charlotte, N.C.) and Mac Styslinger (Birmingham, Ala.) 8-5 at the No. 2 position to give the Trojans the early edge. The final two matches went to tiebreakers. At No. 3, Max de Vroome and Eric Johnson rallied from trailing by a break for most of the match to defeat Mitchell Frank (Annandale, Va.) and Ryan Shane (Falls Church, Va.) 8-7(5) to secure the doubles point for USC. At No. 1, Justin Shane (Falls Church, Va.) and Alex Domijan (Wesley Chapel, Fla.) had match point against the nation's top-ranked team of Yannick Hanfmann and Ray Sarmiento, 7-7(6-5), when the match was abandoned.
The match remained close in singles, with each team winning three first sets. Ryan Shane brought the Cavaliers even in the match as he closed out a 6-1, 6-4 victory at No. 3 over Quiroz. USC retook the lead as Johnson topped Justin Shane 6-4, 7-5 at the No. 5 position. Sarmiento followed with a 6-4, 7-5 win of his own at No. 2 over Frank to make the score 3-1.
The final three matches all went to a decisive third set. At No. 1, Hanfmann rallied from dropping the first set and saving match points in the second set to post a 4-6, 7-6(10), 6-4 win over Domijan to clinch the match. Seconds later Michael Grant completed a 7-5, 3-6, 6-3 win at No. 6 over J.C. Aragone (Yorba Linda, Calif,) to make the final margin 5-1.
It was the fifth consecutive NCAA Semifinal appearance for the Cavaliers, the longest active streak in the nation and the longest since Georgia made five straight final four appearances from 1995-99.
Domijan, Frank and Ryan Shane will remain in Athens for the NCAA Singles Championship, which begins Wednesday at the Dan Magill Tennis Complex. The 64-player draw will be announced Tuesday.
#1 USC 5, #4 VIRGINIA 1
Doubles:
1. #38 Domijan/J.Shane (UVa) vs. #1 Hanfmann/Sarmiento (USC) 7-7 (6-5) DNF
2. Farren/Quiroz (USC) def. Kwiatkowski/Styslinger (UVa) 8-5
3. de Vroome/Johnson (USC) def. Frank/R.Shane (UVa) 8-7(5)
Order of Finish: 2,3
Singles:
1. #10 Yannick Hanfmann (USC) def. #6 Alex Domijan (UVa) 4-6, 7-6(10), 6-4
2. #9 Ray Sarmiento (USC) def. #4 Mitchell Frank (UVa) 6-4, 7-5
3. #46 Ryan Shane (UVa) def. #42 Roberto Quiroz (USC) 6-1, 6-4
4. #113 Thai-Son Kwiatkowski (UVa) vs. #91 Max de Vroome (USC) 7-6(8), 6-7(2), 1-3 DNF
5. Eric Johnson def. Justin Shane (UVa) 6-4, 7-5
6. Michael Grant (USC) def. J.C. Aragone (UVa) 7-5, 3-6, 6-3
Order of Finish: 3,5,2,1,6