On September 30, a unique public/private partnership will present a daylong community conversation around the impacts of the coming driverless car age on Charlottesville and small-to-mid-sized cities around the country, paired with an opportunity for attendees to experience live autonomous vehicle demonstrations.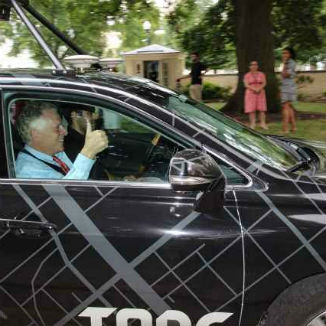 The event, which will take place at the Abbott Center at The Darden School of Business from 9:00 a.m. until 4:00 p.m. and is free and open to the public, is entitled The Driverless Future: Asking the Big Questions. It will be presented by the University of Virginia, the City of Charlottesville, and the Virginia Autonomous Systems Center of Excellence. The event will bring together Virginia Governor Terry McAuliffe, Charlottesville Mayor Michael Signer, Virginia Secretary of Technology Karen Jackson, UVA Provost Tom Katsouleas and experts from around the Grounds and across the country for an examination of the various ways the quickly emerging driverless technology will transform the ways small and medium-sized cities like Charlottesville will function, while examining what can be done to enhance the benefits and lessen the negative impacts of the transition for people across the economic spectrum.
Billed as a community conversation rather than an academic conference, The Driverless Future: Asking the Big Questions will feature a series of hour-long discussions throughout the day built around key questions including: How will this future impact the physical design of small and large cities and their surrounding regions? What is the future impact of this technology on human well-being, and how can public policy address or enhance these impacts? What will be the impact on our general quality of life? How will autonomous vehicles impact private and public transportation systems? How can we best prepare the economically disenfranchised for this transition?
"Thus far," Katsouleas said, "much of the research emphasis and resources on this issue have been put toward looking at the impacts on larger cities and their surrounding regions. Charlottesville, a small city with a progressive ethos, represents an extraordinary opportunity for us to work with our partners at the state level and in the city government here to look at the various ways this coming technological revolution will impact our cities not only physically, but socially as well."
"Innovation and technology are at the heart of what makes Virginia such an exciting place to live and to work today," said Virginia Governor Terry McAuliffe. "This new technology promises to transform our lives in many positive ways, from providing easier access to healthcare services, to reducing accidents, and offering easier access to healthy foods. I look forward to joining this important community conversation, which will be an invaluable tool as we look to support this industry and drive innovation in our new Virginia economy."
"With roots in both Charlottesville and the University of Virginia, we couldn't be more pleased to help bring a sense of the possibilities to this meeting," said Paul Perrone, CEO and founder of Perrone Robotics, Inc. "While our technology is coming together quickly, these broader community issues must be addressed for driverless vehicles to succeed, and therefore we look forward to participating in this conversation and many more ahead."
"We are delighted to be partnering with our friends at the University of Virginia, with Commonwealth of Virginia leadership, and with Charlottesville's own Paul Perrone to provide this opportunity to engage with the public on what will become incredibly important issues for our community moving forward," said Charlottesville Mayor Mike Signer. "The advent of this new technological era will change the way we live and the way we work, and we have a collective responsibility to ensure that all of our citizens are prepared and positioned to thrive."
Toward that end, the University of Virginia and City of Charlottesville officials are already working on a collaborative, predictive investigation to examine shifts in jobs and public health in Charlottesville with a goal of creating job training programs that might prepare those dependent on hourly wage jobs for autonomous vehicle-related jobs. Other planned collaborative efforts will focus on forecasting the policy and infrastructure changes required to realize health, well-being, and economic benefits throughout the community. Meanwhile the City of Charlottesville has already been providing UVA researchers with key transportation data that can make Charlottesville an important research site in what will be a critically important national conversation.
Attendees will also have a chance to observe and experience the driverless car revolution for themselves thanks to live demonstrations provided by Perrone Robotics, which will have several autonomous vehicles running throughout the day on a closed loop on UVA Grounds.
Event organizers are committed to making this event as inclusive as possible. All interested parties who require accessibility accommodations should contact Amy Stoops at [email protected] or 434.924.6815 by September 22.
For more information and a full schedule of the events planned for The Driverless Future: Asking the Big Questions, visit provost.virginia.edu/academic-outreach/driverless-future.