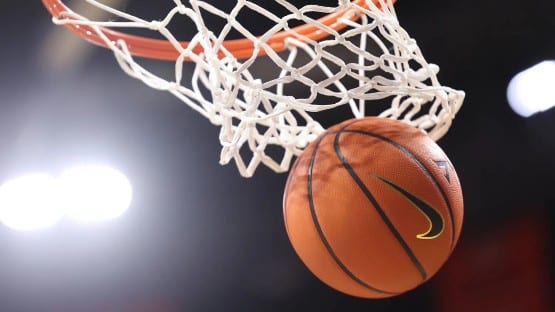 Just days after getting a commitment from 2024 top-100 power forward Jacob Cofie, Tony Bennett and the Virginia men's basketball team was hoping to strike gold again. Priority five-star target Kon Knueppel went a different route on Thursday, however, announcing that he will be heading to play for ACC rival Duke next fall.
After recent trips to Marquette, Alabama and Wisconsin, the 6-foot-5, 205-pounder from Wisconsin Lutheran in Milwaukee had completed his tour of potential destinations, visiting UVA and Duke last weekend.
Knueppel, ranked in the 247Sports composite as the 15th-best overall prospect and sixth-best small forward in the Class of 2024, would have been the highest-rated recruit of the Tony Bennett era. He is also ranked ninth nationally by On3, 15th by Rivals and 22nd by ESPN. Knueppel is regarded as one of the top shooters in his class, and was the leading scorer in the EYBL this past summer, scoring nearly 23 points per contest.
Bennett had been hot on Knueppel's trail for the entire offseason, following him all around the country at various AAU tournaments and showcase events. It wasn't Knueppel's first trip to the Charlottesville area, as he was in the crowd at John Paul Jones Arena on an unofficial visit back in February when the Cavaliers defeated Duke in overtime.
There was also the Bennett-Wisconsin connection that many believed would play a significant role in his recruitment, and as you can tell, the kid comes from a family of hoopers: Knueppel's father (also named Kon) is the all-time leading scorer at his alma mater, Wisconsin Lutheran College. His mother, Chari Nordgaard Knueppel, is the all-time leading scorer for the Wisconsin-Green Bay women's basketball program (Bennett's alma mater). His uncle (Chari's brother) Jeff Nordgaard was teammates with Bennett at UWGB — under Dick Bennett — during his college years.
Many recruiting experts believed it was down to a two-horse race between the Wahoos and the Blue Devils, with the Crimson Tide, Badgers and Golden Eagles on the outside looking in. If that was indeed the case, it likely came down to which ACC program impressed Knueppel more while he was in town last week.
One of the Blue Devils' other top recruits, heralded five-star forward Cooper Flagg (No. 1 in the updated 247 rankings), recently reclassified to 2024, which could have certainly also played to the Hoos' advantage if Knueppel felt that things were getting a little overcrowded in Durham. Two other talented small forwards — five-star Isaiah Evans (No. 11 nationally) and four-star Darren Harris (No. 56) had already committed to the Devils for next season.
Kneuppel decided that Durham was home, though, and the Cavaliers will now decide whether or not to go back to the drawing board for the 2024 class.
With UVA point guard Christian Bliss reclassifying, enrolling a year early and taking a redshirt this fall, the Wahoos are loading up their future roster with some serious talent. Cofie (6-9, 225), who is ranked at No. 82 nationally in the latest 247 composite, had recently trimmed his list down to four finalists — UVA, Ohio State, Southern Cal and Washington.
After making his official visit the weekend of the Virginia-JMU football game earlier this month, Cofie was sold that Charlottesville was the place he wanted to spend his college years.
"I ultimately chose Virginia because I felt it was the best school to develop me as a player and take my game to the next level," Cofie said in an interview with On3. "Also being coached by Tony Bennett would be an honor. I feel like there's room on the team for me to work hard and earn an opportunity to get minutes as a freshman. It felt like family when I went on my visit.
"I'm excited to call Virginia home all the way from Seattle," he said. "I can't wait to get on the floor and represent UVA and help us win another national championship. I see a championship in the near future."
With the Cofie commitment in the books and still two more scholarships on the table, it will be interesting to see how things play out with two other big men who hold offers from UVA — Matthew Hodge (No. 92), a 6-8, 200-pound power forward from Belmar, N.J., who made a recent visit, and David Punch (No. 107; 6-7, 205 from Harker Heights, Texas), another power forward who has a visit with the Cavaliers scheduled for next month.
The team is expected to lose grad-transfer forwards Jordan Minor and Jake Groves at the end of this coming season, and star point guard Reece Beekman will likely be making the jump to the NBA. Bliss fills the need at the 1-spot; Cofie at the 4. Will Bennett and his staff decide to go after one or two more high-schoolers? Or will they decide to carry the remaining scholarships over to next year, where there's a bulk of offers already on the table for some very talented players?
Like it or not, in the new landscape of recruiting, there's also the transfer portal to browse through at season's end.
Looking ahead to 2025
Charlottesville's own Chance Mallory took an unofficial UVA visit last weekend. The 5-9, 150-pound, four-star prospect out of St. Anne's-Belfield had a big summer on the Under Armour circuit with Team Thrill, as his stock continues to rise on the national scene.
Mallory (No. 90 in the 247 composite) was teammates at STAB last season with current UVA freshman forward Desmond Roberts, and said he got to hang out with him and newcomers Blake Buchanan and Elijah Gertrude while on Grounds, adding that all three gave the Cavaliers a ringing endorsement.
Mallory has got a few more visits lined up with ACC schools — Virginia Tech on Sept. 30 and Clemson on Oct. 7. Along with the Hoos, Hokies and Tigers, he holds offers from West Virginia (he was in Morgantown this past weekend for the West Virginia-Pitt football game), Maryland, VCU, Iowa, Illinois, Butler, Seton Hall, Central Florida, Radford and Longwood.
Mallory, who has also picked up interest from Villanova and Marquette, shared the floor with Stephen Curry last month in Baltimore at the NBA star's live showcase, as the two teamed up for a win in a 3-point shooting contest.
Mallory is in no hurry to make a decision; his plan is to wait until the end of his final AAU season next summer and prior to his senior season at STAB.
Additionally, combo guard Derek Dixon (6-3, 190; Washington, D.C.) was on Grounds two weekends ago for an unofficial visit, along with Nate Ament, a 6-7 small forward from Manassas. Both Dixon and Ament picked up scholarship offers from the Cavaliers this summer.
"They're a very defense-oriented team," Ament told Rivals in a recent interview. "I like that. I know the guys are closely bonded over there. In my process, it's important for me to see how closely the coaches are bonded with their players. So I like that a lot about UVA."
Ament, who also plans to visit Iowa later this month, is also being courted by Duke, and was in Durham for an unofficial visit last weekend along with Knueppel and another UVA target, 6-9, 210-pound power forward Nikola Bundalo (Hudson, Ohio).
Bennett and Jason Williford were among the college coaches on hand at the Overtime Elite Pro Day on Tuesday to see 6-8 Atlanta power forward Bryson Tiller, one of the top big men in the class of 2025. Tiller, who was the first player in the '25 class to be offered by the Hoos back in May, has also been offered by Kansas, UNC, Villanova, Florida State, Houston, Indiana and several others.
In other 2025 news, Acaden Lewis (6-2, 170-pound combo guard; Washington, D.C.) also made an unofficial visit to Central Virginia last weekend. Jacob Wilkins, an athletic, 6-7, 167-pound forward from Loganville, Ga., has set a Virginia visit for Oct. 13. Wilkins, the son of former NBA All-Star Dominique Wilkins and stepbrother of UVA assistant coach Isaiah Wilkins, is ranked in the top 40 nationally (No. 38) in the 247 composite. He has been offered by Alabama, Indiana, Georgia and Cincinnati.
La Lumiere (Ind.) star Jalen Haralson, a five-star, top-10 national prospect, received an offer from Kansas last week, adding to a long list that includes UVA along with Duke, Michigan State, Ohio State, Indiana and a ton of others. Haralson's La Lumiere backcourt mate, Darius Adams, also holds an offer from the Cavaliers, along with numerous other Power 5 schools.
London Jemison, a 6-8, 185-pound small forward from Oakdale, Conn., took an unofficial visit to Providence at the end of August, and picked up an offer from Villanova on Tuesday. Jackson Keith, a 2025 four-star forward, and 2026 big man Latrell Almond, who both have been offered by Virginia, were in Chapel Hill over the weekend for an unofficial visit to North Carolina's campus.
Keith, who was also offered by Villanova on Tuesday, had previously visited the Tar Heels in January, but has not yet been offered by head coach Hubert Davis and his staff. He has also made several trips to NC State. Keith was in Charlottesville last fall for an unofficial visit, which he referred to as "an experience which won't be forgotten."
Almond, who attends John Marshall HS in the Richmond area, holds the only UVA offer so far in the 2026 class, and is listed as a 6-8, 205-pound center. Sticking with the sophomore class, although no offer has yet been extended, '26 small forward Julius Avent, a 6-6 small forward from Bergen Catholic (N.J.), has reportedly received interest from the Cavaliers. He was teammates with Bliss, Hodge and Adams on the PSA Cardinals this past season.