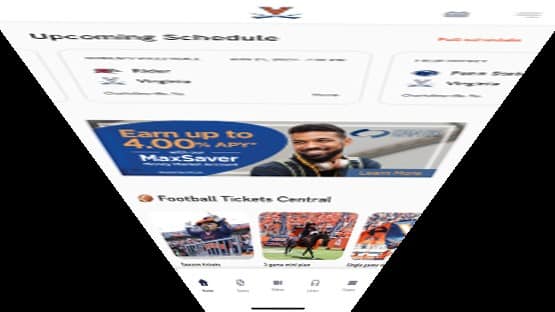 UVA Athletics has a new mobile app, developed by Playfly Sports and WMT Digital, and, first impression, it's cleaner and loads faster than the previous version.
The sales pitch for the new app, which UVA Athletics touted in a press release on Tuesday, is that it should be easier to track live scores, tune into audio broadcasts and manage tickets.
"Our long-standing partnership with UVA and the athletic department goes far beyond traditional multimedia rights to connect them with best-in-class industry partners who help create more value," said Christy Hedgpeth, president of Playfly Sports Properties.
"WMT has a proven ability to deliver a better experience for fans, and we look forward to working with their team to bring to life a brand-new app for UVA fans everywhere," Hedgpeth said.
"WMT is sincerely appreciative that Virginia leadership trusted us to add to their digital portfolio with a new mobile app," said WMT Digital CEO Andres Focil. "Carla Williams and her team are effectively leaning into progressive digital strategies to best serve the Cavalier fanbase."
WMT has built custom mobile apps for 15 Power 5 schools, conferences and venues and will launch another handful throughout the Summer of 2023.
The new app for UVA Athletics will continue to roll out additional features in the coming months.
Current Virginia Sports app users, iOS and Android, should navigate to their device's app store and install the most recent version of the app.
Once the update has been installed, users will automatically begin to experience the enhanced app.
New Virginia Sports mobile app users should simply go to the iOS app store or Google Play Store, search "Virginia Sport," to download the latest version of the app.