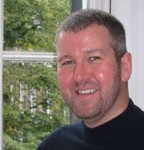 Dirk Robertson has a home away from home in the UK – in Waynesboro.
"I have always believed in the positive effect writing, as an art, can have on the community, in general. That's what made me want to come," said Robertson, an author and novelist who makes an annual trek across the pond for the Book 'Em literacy event, now in its sixth year.
The youth-literacy-themed event has pulled authors from across the country to Waynesboro dating back to the first Book 'Em, founded by Waynesboro Police Department crime-prevention officer and crime novelist Mark Kearney, in 2004. Robertson not only by far has the longest trip, but he's become a year-round Book 'Em fixture, having now in his possession a work visa that will allow him to do work in Waynesboro and across Virginia in the literacy arena.
"When my passport came with the visa, I slept with it under my pillow. It was a very emotional day for me. It was delivered by courier from the U.S. Embassy. I nearly knocked the man off his bike. I felt he had a huge piece of my life in that envelope, because in fact he did," said Robertson, whose link to Book 'Em is itself an interesting story.
Robertson saw an ad in a UK-based crime-writers magazine about Book 'Em that noted that a percentage of book sales at the event would go to promote literacy programs. A social worker before he turned to writing full-time, Robertson knows well the tie between literacy and personal empowerment.
"I ran a unit for young people in care," Robertson said. "I watched them get hurt and emotionally tortured again and again by people who said they would be there, said they would do things but never ever delivered. The impact reverberated in their lives like an earthquake. I don't like to see my fellow human beings suffer, and I certainly don't want to be the cause of it by talking big, then working small."
The story of how Robertson went from social work to writing is also quite interesting. He met famed blues musician B.B. King at an event in London. "He said with a name like mine, I must be a writer or an actor. When I said I was a social worker, he answered, 'I know what I'm talking about, you should be a writer or an actor.' I said – 'OK, I'll give it a go.'"
Robertson ended up in acting school, which led to some work in film and television, before transitioning into writing.
"I find fiction writing a rollercoaster ride," said Robertson, who dedicated his first fiction book to, you guessed it, B.B. King.
Book 'Em
WHAT: Book sale featuring more than 50 authors from across the Valley, across Virginia and across the world
WHAT ELSE: A portion of the proceeds from the sales goes to promote local youth-literacy programs
WHERE: Kate Collins Middle School, 1625 Ivy St., Waynesboro
WHEN: Saturday, Oct. 17, 9:30 a.m. to 4:30 p.m.
INFO: www.bookemfoundation.org
– Story by Chris Graham