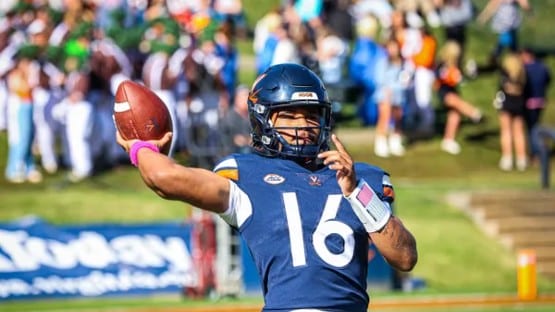 Jay Woolfolk is getting some looks at quarterback this spring at Virginia, coach Tony Elliott indicated over the weekend, though it's not an easy process, with Woolfolk having to balance spring practice and being the closer on the Top 10 UVA baseball team.
Woolfolk, a rising junior, was able to get live reps on Tuesday and Thursday, getting up to 40 throws each day, Elliott said, "and he looked good, you know, throwing the ball well," the coach said.
"We tried to make sure that those throws were heavily leaning towards, you know, the competitive stuff versus defense, so we can get that look, we can get that evaluation," Elliott said.
There had been some talk around the program heading into the spring that Woolfolk's lack of availability might make it hard for him to stay in the QB1 race, and that he would end up being used more in a slash role, a bit like Keytaon Thompson had been used the past three seasons, to great success – Thompson led UVA in receptions and gained 2,521 yards from scrimmage the past two seasons lining up in the slot, out wide, in the backfield and at wildcat QB.
But Elliott emphasized at least a couple of times in a Saturday Zoom call with reporters that he and his staff are looking at spring more as a training and evaluation period, not just with the open quarterback job, but across the board.
This is probably as much a matter of necessity with a thin QB room. The departure of three-year starter Brennan Armstrong, now at NC State, leaves Elliott with Woolfolk, Armstrong's backup the past two seasons, and Tony Muskett, a transfer from Monmouth, an FCS program, to duel for the starting job.
Yes, there are plenty of warm bodies in the room – the most promising being first-year Anthony Colandrea, a 6'0", 182-pounder from Lakeland, Fla., who passed for 3,137 yards and 28 touchdowns as a senior in 2022 – but what's left outside of Muskett and Woolfolk is a mix of developmental projects, guys who could maybe better help the team in other areas and placeholders.
And it's not like Muskett, an unrated quarterback out of high school in Northern Virginia, who passed for 5,687 yards and 51 TDs in 23 starts at Monmouth over his three seasons there, is much more than a placeholder.
Monmouth is not exactly an FCS power, and the program was just 15-11 over the past three seasons with Muskett as the primary starter at QB, the high-water mark being a 7-4 finish in 2021.
"Tony's played a lot of football, so when you think about a guy like him, it's kind of like a free-agent quarterback," Elliott said. "You know what he's done, what we've done, he just has to transition the terminology. And he's played a lot of football. He's been a starter for multi years and played at a high level where he was at."
Elliott, again, overstating things there.
He's an empty glass is half-full kind of guy, to those who know him.
Getting back to Woolfolk, the thinness in the QB room is why it's important that he get live reps in the spring around baseball, where he's currently 2-0 with two saves, a 1.32 ERA, 16 strikeouts and seven walks in 13.2 innings, and a .106 opponent batting average.
A preseason ranking of the top 150 players in the draft class of 2024 compiled by D1Baseball.com projects Woolfolk at no. 50 overall, and no. 27 among pitchers, which would seem to suggest that he would easily go in the top five rounds of the draft, at the least.
"That young man has a just as bright a future in baseball as he does in football, and I wouldn't want to stand in the way of that," said Elliott, unintentionally underestimating Woolfolk's career prospects in baseball, and overestimating them in football.
Elliott, UVA baseball coach Brian O'Connor and Woolfolk communicate each week on Sunday to work out a schedule for the coming week based on baseball off-days and O'Connor's expectations in terms of his need to use Woolfolk out of the bullpen.
"I don't want to get in the way of his ability to do two things to help the baseball team, but then also, you know, position himself as an opportunity to potentially be a pro down the road," Elliott said. "So it's really just been communication, and Coach O, he's been great, he's been awesome. His staff has been awesome. Jay has been awesome. And it's been fun to kind of watch a guy do that, because I always admired that growing up, watching Deion (Sanders), watching Bo (Jackson), watching Frank (Thomas), watching Brian Jordan, watching all those guys do it. Man, I was a fan, because I wanted to do both when I was when I was Jay's age."