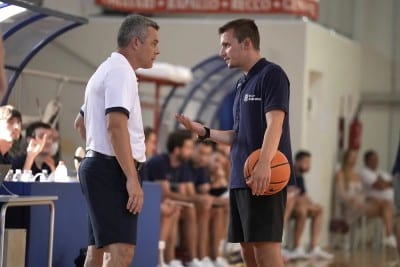 The last Tony Bennett technical foul that I remember was in his first season at Virginia, in a home loss to Maryland. I hope there's video somewhere of his second UVA tech, at the end of the first OT in a 94-87 double-OT win over KK Mega Basket to conclude the program's 10-day tour of Italy on Friday.
"I just felt like there was some things out of our control that were really troubling," the ever-humble Bennett said after the game. "I lost my mind, and you see that, and you know, I just feel like everyone's a competitive, they are, we are, the officials are, and you know, I think my Italian bloodlines got the best of me in this place at times, because I let the officials know a few things I probably shouldn't have."
It's not that Bennett doesn't get worked up. I'm thinking of the fired-up Bennett in a loss at Duke in 2019. His intensity comes out when he thinks the stakes are higher.
Which is what makes this one stand out. Games on a summer overseas trip are the basketball equivalent of a soccer friendly. They don't count for or against you in any standings.
But this one did mean something more to Bennett than a friendly. Virginia had gotten spanked by the talented KK Mega Basket 24 hours earlier, 92-73.
NBA scouts were on hand for both games to get a gander at KK Mega Basket prospect Nikola Durisic, a 6'8" guard in the mold of Luka Doncic.
This was the kind of test that Bennett wanted for his team.
"I thought we responded well," Bennett said. "I thought we defended better, we were just better in all areas. Reece was so tough most of the game, and Kihei took over late, but everybody had their moments. Again, nothing perfect, but everybody had their moments, there was good stuff. And it was good opportunity for all the guys."
Bennett's roster for the game didn't include three starters from last season – Armaan Franklin, Jayden Gardner and Kadin Shedrick – in line with his plan to use a 10-man rotation for each of Virginia's four contests on the trip.
The starting five for Friday had last year's starting guards, Kihei Clark and Reece Beekman, along with first-year Isaac McKneely, Ohio U. transfer Ben Vander Plas and fifth-year Francisco Caffaro.
First-years Isaac Traudt and Leon Bond and second-year Taine Murray got good minutes off the bench, but the day belonged to the guards.
Clark finished with a team-high 23 points, 10 in the second OT. Beekman had 21 points and five assists.
McKneely was the find of the day, scoring 15 points.
"I thought McNeely showed some really good stuff," Bennett said. "He banged some shots, and we need that, you know. When we can stretch the floor a little bit, that changes everything. So, he showed his strengths, his ability."
A buzzer-beater by KK Mega Basket's Malcolm Cazalon sent the game to overtime, tied at 69-69.
Bennett's T came late in the first OT.
He really wanted this one.
"To have those young guys pulled through and for us to finish, handle adversity, that stuff you're going to see when things happen," Bennett said. "It's funny, you say that we are in a situation, even though is Italy, hey, we're getting some crazy calls, we are in this, I'm sure this will get referenced at times in our games."