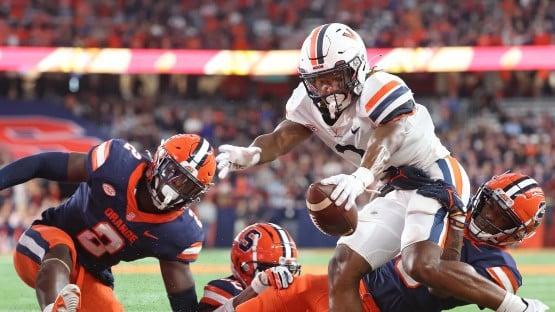 The talk each spring about this being the year that Virginia is going to finally have a decent run game is like Donald Trump's infrastructure week.
Yep, here we are again.
Another infrastructure week.
"Anytime you have guys like we got, anytime you have guys like Perris Jones, who's played a lot of football, you're bringing Mike Hollins back, who's played a ton of football, Xavier Brown played a lot of football, then you bring in a kid from Clemson like Kobe Pace, who's played a lot of football, it's a great room," running backs coach Keith Gaither said after a practice last week.
But this time, we mean it.
We're going to be doing something, you know, with infrastructure.
For the umpteenth time, I'll write that there is talent in the backfield to actually give Virginia a working ground game, because as in years past, there is.
The issue isn't, again, as in years past, the talent in the running back room, as much as it is the lack of talent in the offensive line room.
That was the issue last year, anyway, when Virginia, with new head coach Tony Elliott preaching that he wanted balance out of the offense that he inherited from Robert Anae, the offensive coordinator under Elliott's predecessor, Bronco Mendenhall, ran for a paltry 123.1 yards per game, less, somehow, than in 2021 with Anae at the controls.
Anae didn't want to run the ball; Virginia, under Elliott and his new offensive coordinator, Des Kitchings, just couldn't.
The leading returning rusher, with quarterback Brennan Armstrong gone, is Jones, a fifth-year player who ran for 365 yards, averaging 4.5 yards per carry in 2022.
Armstrong, now at NC State, ran for 371 yards last season.
As the old man in the running back room, Jones has been emphasizing to his backfield-mates that they set "the example of what the what our teammates should be and what they should do and how they should practice."
"We come with the mindset every day that we're going to work hard, we're going to do everything that we can to the best of our ability, to set a good example for the young guys, as well as the remainder of the team," Jones said. "I feel like this group could be really one of the best in the nation. You know, we have talent in all areas, we all really work really, really, really hard. So, I mean, our group, the sky is really the limit with this group this year."
I love the attitude, but no, it's not.
The goal for the group shouldn't be to be the best in the country; it should be just, don't drag the team down like last year.
One guy who can help there is Clemson transfer Kobe Pace, who ran for 641 yards and averaged 6.2 yards per carry for Clemson in 2021, but dropped to third on the depth chart at tailback in 2022 behind Will Shipley and Phil Mafah, and only saw action in eight games, getting 30 carries and catching six passes.
To get a sense of what he can do as a featured back, Pace was named ACC Player of the Week after gaining 191 yards on 24 carries in Clemson's 48-27 win over Wake Forest in 2021, and he had 125 yards on 18 carries in a 19-13 win over Boston College earlier in the 2021 season.
"His skill set is a little bit different than what we have in our program, so we're excited about him and what he brings," Gaither said. "He's got a lot of big-play ability, you know, his skill set, foot speed, just his ability to make people miss and accelerate through the hole, tremendous ball skills. He brings big-play ability to our offense, and just like the other transfers, he's just a good kid, he fits our culture, he's the right kind of guy you need to bring in from another program."
One guy who had flashes of brilliance last season is rising sophomore Xavier Brown, who ran for 210 yards and averaged 4.2 yards per carry as a true freshman in 2022.
Brown had what looked to be a potential breakout game in the Week 3 win over ODU last September, running for 88 yards on nine carries, but his playing time was hit-or-miss thereafter.
He did have a nice night in the win at Georgia Tech in October, rushing for 45 yards on 12 carries.
As with Pace, there seems to be an every-down back in there somewhere with Brown, the Kentucky Gatorade Player of the Year in 2021.
Brown noted last week that he feels "a lot more comfortable" in the offensive scheme in Year 2, which should help things.
"It's more of knowing why we're doing everything instead of just learning what to do, and it's a lot more of paying attention to detail and understanding why things happen, or why the defense does this, or how do we react to each thing the defense does that puts us in a position to succeed," Brown said.
Gaither is also high on Miami transfer Cody Brown, a former four-star prep recruit who ran the ball twice in limited action in three games last fall after dealing with injuries.
"He's trying to learn the system. He's competing. He's trying to be coachable," Gaither said. "I've been very impressed with Cody, and you know, we weren't sure what we have, because we didn't see much of him last year because of the injuries that he battled as he was learning the system, but he's doing a great job. You'll be impressed once you get an opportunity to see him. He seems like a different Cody Brown."
Also competing for time in the backfield will be the inspirational Mike Hollins, a rising fifth-year player who is back with the team after suffering life-threatening injuries in the Nov. 13 mass shooting that took the lives of UVA football players Devin Chandler, Lavel Davis Jr. and D'Sean Perry.
Gaither wasn't sure what to expect from Hollins, who ran for 215 yards and averaged 4.1 yards per carry a year ago, when he first saw him in winter workouts.
"He didn't just exist in the drills, he won a lot of battles, and he's up in front, and just his competitive spirit, the way he was leading, the way he was battling and competing amongst his peers, that's the first thing," Gaither said. "I was like, Oh. I was just expecting Mike to be there and be amongst us. But he wasn't just there, he was out there winning races, winning competition drills, and so he's basically letting people know, I'm the same old Mike."
It's an open competition for who will be RB1 next fall, which is pushing everybody to work a little harder.
"I think it's a healthy competition," Gaither said. "We haven't put anybody at number one, and we're rotating guys in different groups so we can get a chance to see everybody's work with different offensive linemen, different quarterbacks, but I feel very pleased with the depth and the quality of depth at the running back position."