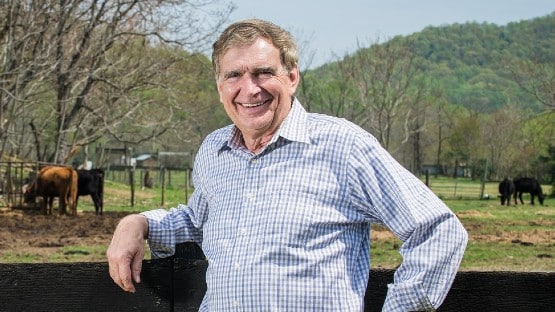 The pending retirement of State Sen. Emmett Hanger spells the end of the line for the Mountain Valley wing of the Virginia Republican Party, which traced its roots to the beginning of the Civil War.
Hanger chafed whenever I would call him a "moderate," but that was part of the tradition for Mountain Valley Republicans, who came to life politically in the Mountain Valley west in Virginia when declaring oneself to be a Republican meant you were opposed to the secession plans of Democrats.
For decades after, the Mountain Valley Republicans, the heirs of the Party of Lincoln, were the loyal opposition to the secessionist Democrats and their heirs in the Byrd machine, which ushered in the era of Jim Crow and used massive resistance to fight the advancement of black civil rights in the 1950s and 1960s.
The old two-party order began to erode and flip with the passage of the 1964 Civil Rights Act, at which point the Byrd Democrats started to leave the party, and over time became Republicans, eventually taking over the GOP from the Mountain Valley types.
I've been writing for years that Hanger wasn't really a Republican anymore, not because he'd changed, but rather, because the Republican Party around him wasn't what it was when he first ran for local office back in the 1970s, and even what it was when he first won a seat in the State Senate in 1995.
Hanger could have run in either Senate District 2, where he would have had to challenge Mark Obenshain, himself a former Mountain Valley Republican, who has adapted well to how the modern-day party prefers to operate, recasting himself as a champion of extreme positions on abortion and guns, or in Senate District 3, where the Republican nominee is Chris Head, from way down the road, in Botetourt County, who is an extremist far right Republican through and through.
Hanger was the rare major-party politician who actually had real bipartisan support. I often wrote about him being a better November candidate than June candidate, a nod to how he had faced a run of stiff intraparty challenges in June primaries, which he would win and then coast to easy wins in November elections because of his broad consensus-building approach.
We need more politicians, in both parties, like Hanger, but our current way of doing elections instead spits out more and more extremists from both fringes.
The Mountain Valley Republicans were the last hope for that party to ever return to any sense of touch with reality.
Hanger's political sunset is an unfortunate end to an era.