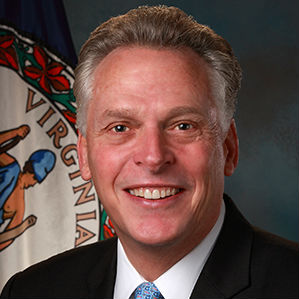 Governor Terry McAuliffe on Tuesday signed Executive Order 20: Advancing Equity for Small, Women, and Minority Owned Businesses (SWaM), which expands contracting opportunities for small businesses in the Commonwealth.
The executive order sets the highest contracting goal in Virginia history of state expenditures to SWaM-certified businesses at 42%. It also creates a new "micro business" designation for small businesses with no more than 25 employees and no more than $3 million in revenue. Currently, over 80% of SWaM certified companies fall under this micro business category but often have to compete with companies over ten times their size for contracting opportunities.
This executive order is designed to ensure a more transparent, equitable, and inclusive procurement process for Virginia's small, women, and minority-owned businesses, and has received praise from leaders across the Commonwealth:
Michael Zajur, President and CEO of the Virginia Hispanic Chamber of Commerce:
"The Virginia Hispanic Chamber of Commerce welcomes Governor McAuliffe's plans to encourage and maximize the participation of small, women, and minority owned businesses in state procurement. Not only will our chamber members benefit from increased contracting opportunities, but Virginia itself will benefit from the diversification of its economy through greater minority participation."
Senator Don  McEachin, Henrico:
"I want to take this opportunity to thank Governor McAuliffe for his leadership in issuing this executive order. Today's order will enable women and minority small business owners to compete on a level playing field. It will help ensure that small businesses are chosen for the quality of their work, and it will help give women and minority owners a fair shot at success.
I have repeatedly introduced a bill to address unfair contracting disparities, but have not been able to get it passed. Now, thanks to Governor McAuliffe, at least for the next three-and-a-half years, the problem is finally being fairly addressed."
Senator Louise Lucas, Portsmouth:
"Nearly two decades ago, I introduced a resolution (SJ12) to ease the process of state procurement for minority owned businesses. Today, I am proud to say that Governor McAuliffe has taken executive action to ensure an equitable and inclusive procurement process. I am glad to have a governor who recognizes the achievements of all hard working Virginians."
Delegate Ron Villanueva, Virginia Beach:
"Governor McAuliffe's small, women, and minority owned business Executive Order was designed to remove unnecessary barriers and promote equity in the procurement process. By taking the initiative to ensure equality, the Governor is providing exactly the kind of leadership that Virginia needs."
Delegate Rosalyn Dance, Petersburg:
"I am delighted with the leadership our Governor is showing today through his bold new initiatives that directly address the major obstacles and impediments that have deterred and at times prevented small women and minority businesses (SWAM) from being able to actively and successfully do business with state and local governments. This is in alignment with the legislation I have introduced this year and for the last several years along with my colleagues in the Virginia Legislative Black Caucus."
Senator Mamie Locke, Hampton:
"The Virginia Legislative Black Caucus is pleased that Governor McAuliffe is issuing an Executive Order that focuses on small, women, and minority owned businesses.   This is a necessary step to ensure fairness, transparency, and equity for these businesses that are often left out of the procurement process.   I am especially excited about the opportunities for minority owned businesses for which the Caucus has been a strong voice and advocate."
Delegate Charniele Herring, Alexandria:
"I am proud to stand with Governor McAuliffe today as he announces a step forward for small business – and for the fair inclusion of women and minorities in our Commonwealth's procurement process. We have been working toward more accountability and transparency for years – and this is positive action in the direction toward inclusiveness, which can only translate to strengthening our economy overall."
Delegate Jennifer McClellan, Richmond City:
"Today, I commend Governor McAuliffe for ensuring that our Commonwealth continues to take the lead on being the friendliest state in which to do business. It is important that we encourage SWaM businesses to come and invest their time and resources in Virginia. We must continue to level the playing field and be the standard to which other states craft their own compliance measures."
Delegate Michael Futrell, Prince William:
"The value of this executive order cannot go understated, and I thank Governor McAuliffe for allowing SWaM businesses out there to have a fair chance at succeeding. The Governor's vast knowledge in the business arena gives Virginia the advantage in continuing to be the friendliest state in which to do business. This administration's continuous efforts to level the playing field for women and minorities speak to the changing landscape here in the Commonwealth."
Delegate Matthew James, Portsmouth:
"When Governor McAuliffe signed the small, women, and minority owned business executive order, he reminded us once again of his commitment to equality. This Executive Order sets a high bar for compliance, and failure to meet the SWaM plan requirements will be detrimental to the contractor's future projects. The Governor is taking a stand and demanding inclusiveness, and I applaud him for that."
Delegate Alfonso Lopez, Arlington:
"Virginians have always been pioneers when it comes to creating an environment that attracts businesses to generate new jobs and grow our economy. With the signing of today's executive order, Governor Terry McAuliffe undeniably sets the Commonwealth apart in being one of the most marketable places for women and minority owned businesses in the country. Creating positive steps forward in compliance regulations and allowing businesses to compete on a level playing field is something we must always promote and excel at here in Virginia. I applaud Governor McAuliffe for taking such a significant and important step to guarantee that all of our communities win."
Delegate Delores McQuinn, Richmond City:
"I applaud Governor McAuliffe for timely addressing the issue of SWAM businesses receiving contracts through the state's procurement process. This is an issue on which I have tirelessly worked for several years with my colleagues in the Virginia Legislative Black Caucus. We are hopeful that the Governor's Executive order will eliminate the disparity minority and women owned businesses have faced for years in doing business with the Commonwealth."
Senator Kenny Alexander, Norfolk:
"Governor McAuliffe's commitment to improving Virginia's business climate includes providing small, women and minority owned business with the needed resources for success.  We should all applaud his inclusive approach.  These enterprises are the future of Virginia's economy and their success is critical to long term job growth."
Delegate Lionel Spurill, Chesapeake:
"Today, Governor McAuliffe announced his plan to maximize the participation of small, women, and minority owned businesses in state procurement. This deliberate step towards creating an inclusive process is indicative of his devotion to equality for all Virginians."