If you are a fan of the hit Discovery show, Street Outlaws, get ready.  The stars are invading Thunder Valley in Bristol on August 22nd.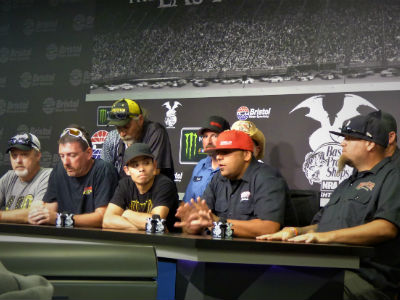 The entire 405 Top Ten List from Street Outlaws including the show's biggest stars, Big Chief, Murder Nova and the duo of AZN and Farmtruck along with 22 other street racers from Oklahoma CIty and across the United States will descend upon picturesque East Tennessee for a never before seen 32-car field drag race in pursuit of big money, $100,000, the largest prize amount in the show's history.
Admission is free and open to the public only on Tuesday August 22nd.  Parking will be available for $10.00 and guests are asked to please use the Dragway entrance off Tennessee Highway 394.  The gates will open at 4 p.m. and guest will be welcome to visit the pits from 5-5:45 p.m. Racing is scheduled to begin at 7 p.m.
Jerry Caldwell, executive vice president and general manager of Bristol Dragway said, "Street Outlaws has a passionate fan base and some of the most entertaining characters on television today. We can't wait to see what antics they get into as they race down Thunder Valley.  We're hoping all of our neighbors in the region will join us as this popular show arrives in Bristol."
The Street Outlaws made an appearance at the Bass Pro Shops NRA Night Race during the weekend, getting ready for their Tuesday appearance.
Pilgrim Media Group, the series producer, will be filming the event for a Street Outlaws special that will air early next year.
Story by Rod Mullins | Augusta Free Press