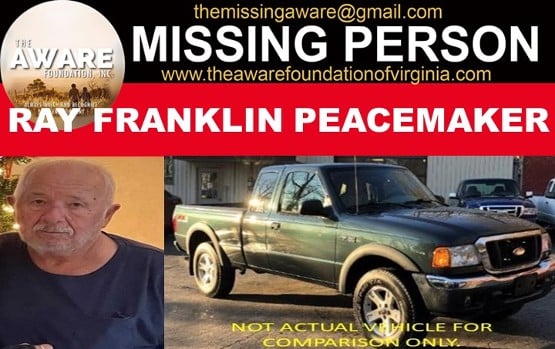 Friday, 5:29 p.m. Ray Franklin Peacemaker has been located and is safe, according to a report from The Aware Foundation.
The Strasburg Police Department is requesting the public's assistance in locating a 76-year-old male.
Ray Franklin Peacemaker was last seen leaving his apartment around 3 p.m. in Strasburg, VA on May 26. He last made contact with family on May 24.
Peacemaker, who was possibly wearing sweatpants and a tan jacket, enjoys car racing and has been known to frequent race tracks from Virginia to Pennsylvania. He also mentioned visiting an old friend in Petersburg, W.Va.
His license plate was tagged by a road camera in Morgan County, W.Va., on May 26.
Peacemaker has several medical conditions that require medication that he does not have with him. He becomes confused easily.
It is out of character for him not to be in contact with his family. He was driving a Forest Green 2004 Ford Ranger with a camper shell with VA plates UEA3434.
Contact the Strasburg Police Department with any information at 540-465-5230.