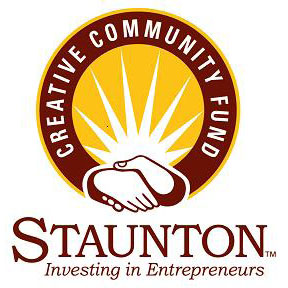 The Staunton Creative Community Fund has partnered with the non-profit Kiva Zip to expand their loan offerings for small business in the Shenandoah Valley.
These loans are offered through Kiva's crowdfunding platform with 0% interest for up to $5,000. These loans compliment the Staunton Creative Community Fund's work in supporting and funding local entrepreneurs, through training, consulting, and financing.
Kiva a non-profit working across the world to bring access to capital to underserved individuals. They are most well known for their international microfinance model, but have gone on to build additional programs, like Kiva Zip. Loans are crowd-funded on the Kiva Zip website by individuals around the world who invest as little as $5. It also serves as a powerful marketing tool that can get businesses exposure to potential customers and advocates.
The Staunton Creative Community Fund plays a role in recommending and advocating for entrepreneurs who wish to receive a Kiva Zip loan. The process to apply only takes a few weeks. These Kiva Zip loans can be used for any business purpose, such as investing in new equipment, purchasing inventory, hiring staff, expanding product lines, and marketing or advertising.
The Staunton Creative Community Fund wishes to bring access to these 0% interest loans to the Shenandoah Valley in order to support entrepreneurs and small business owners in their achieving goals.