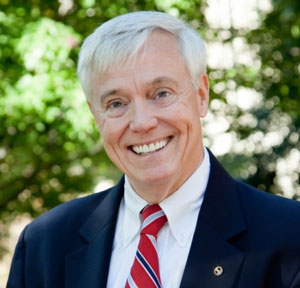 Virginia House of Delegates Speaker Bill Howell (R-Stafford) released Monday a letter sent last week to United States Attorney General Eric H. Holder, Jr. and United States Attorney for the Western District of Virginia Timothy J. Heaphy requesting guidance on the legality of three gubernatorial appointments.
The letter requests guidance on how the House of Delegates should proceed with Governor Terry McAuliffe's appointments of former Delegates Algie Howell and Bob Brink and State Senator Henry Marsh, in light of the ongoing federal investigation into the resignation of State Senator Phil Puckett.
"As you may be aware, two of our House colleagues and a Senator resigned from the Legislature and were almost immediately appointed by Governor McAuliffe to paid state positions," reads the letter. "The General Assembly must approve these appointments for them to take effect. Our dilemma is that if we approve these recent appointments at the Governor's request, the U.S. Department of Justice may conclude that we aided or facilitated a violation of federal law.  Moreover, given this uncertainty, we would be doing a disservice to our colleagues if we were to act and potentially ensnare them in a federal criminal investigation.  I, therefore, will not bring these appointments to a vote before the House of Delegates until you assure us it is proper."
The full letter can be viewed here.
Commenting on the letter, Speaker Howell said, "I have no doubt that these appointments are legal and appropriate, and I have no reservations about the qualifications or capability of these gentlemen. However, as I said in the letter, I am deeply concerned that by confirming these appointments, the House of Delegates may be aiding or facilitating a violation of federal law. The House of Delegates will not act on these appointments until we receive confirmation from the Justice Department that they are proper."
Governor McAuliffe appointed Delegate Brink as the Deputy Commissioner for Aging Services on June 27, 2014, the same day he resigned from the House of Delegates. Governor McAuliffe appointed Senator Marsh to the Alcoholic Beverage Control Board and Delegate Howell to the Parole Board on July 3, 2014, two and eight days after their resignations, respectively.