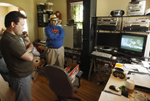 Photos by Mark Miller
Story by Chris Graham
[email protected]
 
The basketball players weren't that good, so the filmmakers had to improvise a little.
"Maybe we have them read it as written, and then shoot one where we have him say, No, they're bad, just as a backup."
That was Matt Warner, the writer and producer of "The Good Parts," the movie version of an unpublished short story that he wrote in 2002 that is being made into a short feature film by the Charlottesville-based Red Army Films.
Warner, from Staunton, connected with Red Army principal John Johnson in March. The quick turnaround on "The Good Parts," which is on track for a June release, is par for the course for Johnson, a Waynesboro native who has been making movies since getting his first video camera as a gift at age 8.
"I have an oiled moviemaking machine for my own self. We have pretty much all aspects of filmmaking covered," said Johnson, who produces his own film features under his Darkstone Entertainment label, and is working on a remake of the cult classic "Plan 9 from Outer Space" that he hopes to begin shooting on later this year.
In between his movies and working as a director for hire on projects like "The Good Parts," Johnson also produces a web-based adventure series, "Spade," that allows viewers to vote online to chart the course for the development of the storyline.
"He's the best director that I've worked with," said Mikiah Umbertis, one of the leads in Warner's "The Good Parts," and a regular in "Spade." "He can make so much happen, and he doesn't need a lot to do it. Some directors need to have a hundred people running around in all directions on the set to feel important. John doesn't need that. He just gets down to business."
And gets the job done. For example, the shooting of "The Good Parts," which revolves around a character who can slow down time to enjoy the moment in full, and her new romantic interest, who conversely fast-forwards his way through life to the point that he skips everything but the good parts, was wrapped in a week.
"He has this entire apparatus in place to make films. I didn't really have to do much. He had the actors and the locations and props. It was a go from there," said Warner, a published novelist who adapted his short story into a screenplay in 2007, and had a deal to make a movie version of "The Good Parts" in place with another production company in 2008 fall through.
The experience on the set with Johnson and Red Army was so good for Warner that he's talking about his interest in developing additional film projects in the near future.
Johnson, on the last day of filming of "The Good Parts" in Charlottesville last month, is there with Warner.
"What drew me to this project was Matt himself," Johnson said. "I loved his background. Most of the filmmakers that approach me are nowhere near that established in the genre. He already has a fan base from his novels and short stories.
"It looked like it was going to be a good collaboration, and from the looks of it it's not going to be our last," Johnson said.
Back to the scene involving the basketball players who weren't that good. One of the extras in the scene was … me.
The scene is actually a somewhat important one – it's where Rob and Jennifer, the protagonists, first meet, sitting on a park bench watching a group of guys play pickup basketball.
Their first interaction is talking about the game going on in front of them. Jennifer is supposed to break the ice by saying to Rob, "They're good, aren't they?"
Truth was, we didn't look good out there. It was a windy day, and nothing outside of five feet was going in the hoop for any of us during the shoot.
"You looked good stealing the ball a couple of times. If we use that, we go with the original line," Johnson said.
My best guess: They were smart to give themselves cover.
 
Editor's Note: A story on the making of "The Good Parts" will be featured in the June-July issue of The New Dominion Magazine.