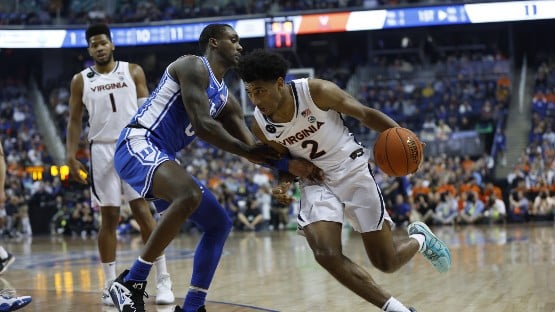 Virginia guard Reece Beekman is going to at least test the NBA draft waters, announcing on Thursday that he will enter the draft while maintaining his college eligibility.
The reason we might need to worry: his message kinda, sorta sounded like a goodbye.
"I want to thank Coach Bennett, Coach O and all of the UVA coaches and staff for believing in me and allowing me to play at Virginia the last three years," Beekman wrote in a message posted to his Instagram account. "Thanks to all of the fans, the Charlottesville community and my teammates for all of the memories that I will never forget. With the support of my family, I will be declaring for the NBA draft while keeping my college eligibility."
OK, so, I had just said on a podcast earlier in the week that it wouldn't surprise me to see Beekman put his name into the draft pool to go through the process of combine and individual team workouts to get a sense from scouts and front-office personnel about what he would need to work on in his senior season.
And now that it appears he's doing just that, I'm saying, it's time to worry.
From a scan of a number of mock drafts online, Beekman looks to be at best a late second-round pick, and there are several that don't even have Beekman having his name called.
The big question mark on the resume of the 2023 ACC Defensive Player of the Year is his ability to knock down jumpers – he connected on just 30.4 percent of his jumpers in 2022-2023, according to SynergySports, and made just 51.3 percent of his shots at the rim, down from 57.7 percent a year ago.
Ankle and hamstring injuries took their toll on his numbers as the 2022-2023 season wore on, reflected in his overall counting numbers – he averaged 9.5 points and 5.3 assists per game, and shot 40.5 percent from the floor and 35.1 percent from three.
If Beekman is just using the draft declaration to get a sense of what he needs to work on, it's going to be his shooting, finishing at the rim and his command – he too often deferred to his running mate, Kihei Clark, willingly playing second fiddle to Clark, who is not an NBA prospect, for each of the past three seasons.
So, he has a lot to work on.
So did Kyle Guy, who decided to leave in 2019 with a year of eligibility remaining, was drafted late in the second round, and bounced back and forth between the NBA and G League before landing this season in Spain, where he's averaging 11.3 points in 21.6 minutes per game, shooting 45.4 percent from the floor and 33.9 percent from three, for Joventut Badalona.