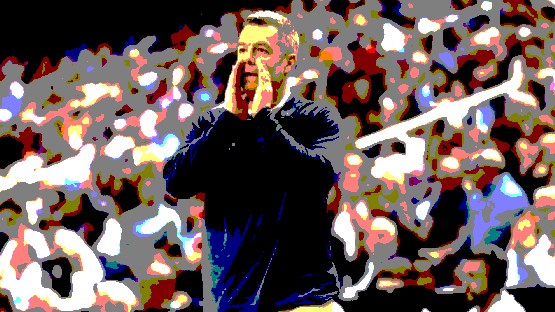 Virginia's next opponent, Wisconsin, is a shaky 2-2 after a 78-68 win over Robert Morris on Friday night.
This year's group is not your father's Badgers, which is to say, they're not Dick Bennett's Badgers.
Greg Gard, a Bo Ryan acolyte, has his team playing fast – according to KenPom.com, Wisconsin is averaging 72.3 possessions per game through its first four games this season, which is akin to Dick Bennett on the highest level of fast forward on your DVR.
The Big 10 preseason media poll pegged Wisconsin fifth, safely NCAA Tournament-bound, if that were to be the final finish.
---
Game Notes
Virginia (4-0) vs. Wisconsin (2-2)
Tipoff at Suncoast Credit Union Arena is set for 6 p.m. ET on FS1.
---
Gard didn't take it easy schedule-wise – his two losses to date are Tennessee (80-70 at home, Nov. 10) and Providence (72-59 on the road, Nov. 14).
Three of the five starters are homegrown, and a fourth, 6'9" junior Max Klesmit, is in his second season in Madison after transferring in from Wofford.
The leading scorer is 6'7" sophomore AJ Storr (15.5 ppg, 38.3% FG, 23.5% 3FG), a transfer from St. John's, where he scored 8.8 points a game and shot 40.4 percent from three, so the shooting numbers thus far are an anamoly.
The shot volume (15.0 shots per game), though, is, wow.
Three other starters and sixth man John Blackwell average in double-figures.
The issue for the Badgers early has been poor shooting from deep – 29.0 percent, which ranks 280th nationally.
Blackwell is shooting 57.1 percent, which sounds great, but in raw numbers, he's 4-of-7 from three.
No one else among the regulars is shooting better than 33.3 percent from behind the arc.
The two starting bigs, 7-foot junior Steven Crowl (10.8 ppg, 6.5 rebounds/g, 55.6% FG) and 6'9" senior Tyler Wahl (10.5 ppg, 4.8 rebounds/g, 64.0% FG), can do damage in the paint.
The Badgers aren't particularly deep – Gard seems to want to go with a seven- or eight-man rotation, though he's still experimenting with who will get the minutes.
Through four games, Gard has six guys averaging at least 17.0 minutes per game, and a seventh, 6'7" junior Carter Gilmore, averaging 11.0.
Gard is also experimenting with the pace thing. The 72.3 possessions per game that his team is averaging through four games is staggering for a program that was at 63.6 possessions per game last season, and hasn't been above 66.5 possessions per game for a season in the KenPom era (which dates back to 1998-1999).