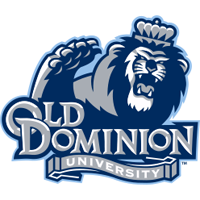 ODU football coach Bobby Wilder talks with reporters on Monday. ODU (3-1) takes on Middle Tennessee State (2-2) on Friday night.
Good afternoon everybody! Good afternoon to all our 12th Monarchs out there in Monarch Nation. Coming off an exciting and very warm 45-42 win at Rice, which put our overall record at 3-1 and our Conference USA record at 1-0. As I explained to our players, it's absolutely critical when you're playing in a conference to get a win on the road.
If we're going to be able to establish ourselves as a good football team we need to be able to win on the road in this league, and that was certainly good for our program to have that happen on Saturday. It was a hot game to play in. It was difficult conditions for the players, it was about 100 degrees down on the field, and felt like it got warmer as the game went on, and that led into what our theme was going into the week about having the ability to weather the storm. We knew there were going to be a number of situations in this game that were going to be challenging, starting with the conditions and that type of heat and humidity. Also, playing the defending league champions at home, they were coming off a 10-4 season last year, and a game against Mississippi State in a bowl game. They had the seventh longest home winning streak in the nation at nine games.
So we knew it was going to be a major challenge going in there, plus playing a really good team, we had to weather the storm throughout the game. We jumped up to a 35-14 lead, they came back to tie it and we had to score late to win. I was really proud of our players and coaches, and how they hung in there throughout this game against a very good opponent. It was critical to get off to a very good start in this game, which we did. Scoring on the first drive is something that's just so important for players, particularly younger players, to have a measure of success early in that game. That gave everybody on our sideline confidence when we took the opening drive and went down the field and scored. It was also critical in this game to somehow gain an advantage with field position. When you're playing a team that's better than you are, you've got to have a measure of success in special teams and field position. Our average start of the drive in the game was our 28 yard line. Rice's average drive start was their 23.
So even that five yards was very important throughout the game with field position, and special teams was critical in doing that. It was also important to take advantage of the injuries they had. I talked to our team yesterday in our team meeting, I used the word perspective with them a lot. Keeping this win in perspective, and to take nothing away from what we accomplished.  We have to understand that we beat a team that was better than we were and we were able to take advantage of the fact that they were beat up. They had four defensive starters going into the game that were out.
Their top three defensive lineman did not play. Christian Covington, who's a junior, the majority of the scouts we had talked to said if he comes out after this year, he's probably a first round draft choice. He sprained his knee in the Texas A&M game and didn't play. Their starting strong safety, who's an excellent player, didn't play. Then offensively one of the best wide receivers in the league, Jordan Taylor, missed the game. In the first drive of the game Dreyfus Jackson the quarterback on a touchdown pass he threw dislocated his left shoulder and missed the remainder of the first half. So we were able to take advantage of that and build a 14 point lead at halftime, and I want our players to understand that and be able to keep this win in perspective because it's going to be hard on them this week to block out a lot of the noise from outside; a lot of the pats on the back. They're going to hear people telling them how good we are, and that's certainly not the case. To put it kindly, we're a very average football team right now in a lot of areas, we took advantage of a situation with injuries to get the win and we need to keep that in perspective as a program.
Speaking to the special teams performance this was a very solid performance, and this is two weeks in a row that we've played winning football on special teams. We punted the ball four times in this game for a net average of 45 yards. That's excellent when you can do that. Twice we had them pinned inside the 20 yard line with punts. So, very excited with what we're doing right now and the ability to punt ball whether it's with our freshman punter or out of an offensive formation. Our return team continues to get better. We had one opportunity for Antonio Vaughan to return a punt this game. He did it for 28 yards and just barely got tripped up, he was cutting it back and was probably going to score on the play. That unit continues to work hard. They're blocking well, we've got a bunch of unselfish guys that are sacrificing themselves in that unit, which is obviously big for field position.
As for the kickoff team, this was probably Ricky Segers' best game. He had seven kickoffs, four of them were touchbacks in the game. The two that we had to cover, one they started  on the 20 yard line, and one on the 31, which is solid work for us there. PAT field goal we were perfect six for six extra points, and Ricky kicked the 25 yard field goal to win the game. So very good performance by the special teams
Defensively it was the tale of two halves. I thought we were solid in the first half, we gave up that opening drive. They scored one more touchdown the rest of the half to get to 14. Second half we came out and got a stop on their first drive, then we allowed four consecutive touchdowns. That's been an issue for us so far this year. Our first half defense we're allowing 11 points, which is solid, I'll take that.  Our second half defense we're giving up 19 points a game right now, and that's too much. We've got to improve our ability to get off the field in the second half. Where we're having our biggest issue right now is third and fourth down. Rice was 12 for 18 in this game on third and fourth down situations. We haven't had the ability to get a stop in that situation, for somebody to step up and make a big play there, and that's something we've got to improve on. It's not any one area. We played a lot of guys Saturday, this is the most guys that we've played. 27 players played on defense, and we did that knowing that it was going to be hot and guys were going to need a rest in this game. We've got to become more consistent for 60 minutes defensively.
Offensively, a very good performance in the pass game, and a very average performance in the run game. We threw the ball, we were 27 for 43 for 430 yards and five touchdowns. Our guys were much better running routes and catching the ball then we were the previous week against Eastern Michigan. The offensive line was a group of warriors on Saturday. We didn't sub much because we had two guy that were out, Troy Butler was out and Ely Anderson. Darius Garcia, a true freshman, got his first start at right tackle, and performed very well. In this game those guys were very good upfront overall in the offensive line.  I felt like our backs and receivers caught the ball well. The run game we had 21 carries for 100 yards, and 35 of those yards came from a scramble that Taylor had in the game. So out other 20 carries were for 65 yards and that's not good enough. We're going to have to be more consistent in the run game. I was really pleased with our two minute drive that we had, the two minute drill. At the end of the first half when we had the long touchdown pass to Nick England. Then at the end of the game in a situation we practice a lot. We had about one minute left, we actually had two timeouts, generally when we do it in practice I don't give the offense any timeouts, I make it as hard on them as I can. We had the ability to get down the field, get the ball close to being perfectly centered and then we were able to take the clock down and use that timeout to kick the field goal. So those two minute drills were critical.
Breaking news I was just informed by Eric that Taylor Heinicke was named the Conference USA offensive player of the week, which is obviously a tremendous award for him and for everybody involved with the offense. Everybody needs to perform well for something like that to happen.
Speaking to this week's opponent, Middle Tennessee. They are currently 2-2, they're 1-0 in Conference USA with a big win over Western Kentucky. The biggest challenge we face first and foremost is the fact that they are a better football program than we are right now. They're a more accomplished program, they're coming off an 8-5 season.
They went to a bowl game last year so they've got players that have experienced winning, experienced a bowl game. They were preseason #2 pick in the east. So these next two weeks we get preseason #2 and preseason #1. This is a very good football team overall. Offensively, they are averaging 460 yards per game, 38 points. Their quarterback Austin Grammer is a good athlete. He's similar in his style of play to Dreyfus Jackson who we just saw last week with Rice. He's a good thrower, he's good running the ball. They'll run designed runs with him, and he scrambles very well. He has the ability, like Taylor does, to scramble and still keep his eyes down the field. So he's a dangerous player at quarterback. At running back they've got four really good players.
They play four running backs, they can run the ball well, protect the quarterback, and they catch the ball out of the back field, so you have to keep an eye on them, similar to our running backs. They'll come out of the backfield and they'll run routes. Wide receivers, tight ends, o-line, they're all very good players. There's a reason why they've been successful two years in a row offensively. They've got good scheme and then there is always a wrinkle, there's always something each week that they'll do to attack you in a different area. So we will have to be on or game defensively. On defense they are fast and physical. They're similar to us in that they are playing a lot of players right now. In their two-deep if you look at the players, there are only five senior that are in that two-deep.
They're young. They're playing a lot of guys, rolling a lot of guys through just like we are. Very aggressive defense. I went back and looked at them last year 2013, and they ended up fifth in the nation in takeaway's. They had 33 takeaways last year, and a lot of that is contributed to their style. They'll get up in your face, they'll play press man coverage, try to force mistakes offensively, and they've already caused six turnovers so far this year. They've got a first team all-conference linebacker in T.T Barber, who's an excellent player. Their strong safety, Kevin Byard, is first team all-conference player, so they've got some very accomplished players on this defense. We will be excited to play. It's a national television game Friday night, our first ever Friday night game, 8 o'clock. Great exposure for our program, for Old Dominion, for this area to be able to play this game on national television. We will need a lot of help from the12th Monarchs Friday night. We'll need you to bring your hard hats and be loud and proud!
Q: Bobby, you said after the game and just now here today, you were talking about Rice and Middle Tennessee, that they are better programs than we are. How do you balance that message they're better than we are with the confidence that you instill in your guys going into those kinds of games?
A: Well I think that it is critical right now Dave to be realistic and keep things in perspective, there has got to be that fear factor. There has got to be that factor that I am going against somebody who is more accomplished than I am. I am going against somebody who has been in bowl games and had a measure of success. So that we are extremely focused during the week at practice, the details of the game plan, and what we are doing. The one thing that I don't think we lack in this program, whether it is the players or the coaches, is confidence. We have won a lot of football games, we have been successful, but in order to keep everybody focused on the process of winning, the planning, the preparation, the execution; there has got to be a measure of respect for the opponent that we are playing. I am always trying to be realistic with our players and our coaches. I am always trying to make sure they understand who the opponent is and who we are playing. That measure of fear I think is a good thing. I think it is a good motivator for all of us, myself included.
Q: Bobby after the game you said in the second half you were unable to just get one stop on defense. Same thing against NC State. You were able to get stops in the first halves of both games. From looking at films what is not happening in the second half that is happening in the first? Is it just the matter of getting worn down or what?
A: I think in both of those situations Harry, we go from being able to put them in some third and longs, more manageable situations to the second half in both games where we have a lot of third and twos or fourth and twos and those are difficult situations to stop people. So we've got to be a better defense on first and second down. We don't tackle as well in the second half, whether that is getting worn down a little bit or losing focus, we have got to be able to tackle better in those situations and put people in more predictable down and distances, where we can get to our nickel and dime packages and some coverage packages and try to give ourselves an advantage. We are struggling in those situations right now and we're addressing it in practice, but we are going to keep working on it. That is an area we've got to improve. That ability in the second half to put people in those third and long situations, because when we have we've been more successful. I'm sure that is probably a general phrase in football, when you get somebody in third and long or fourth and long, you're going to be better, but that is something that we have to do better.
Q: Bobby when you score on the fourth down plays, especially those long plays, does that give you guys extra energy going into the next play?
A: Yeah I really think it is Tom. I think it is incredibly disheartening when you do that and right before the half that put us up 28-14 and that was probably the difference in the game. We were trying to get far enough ahead of them and obviously at 35-14 it still wasn't far enough, but I think it was disheartening to them that that happened. Those are calculated opportunities as a head coach or a coaching staff that we will go for it in those situations. It has more to do with the belief in the quarterback than anything else. When we get in those fourth down situations, we have been very successful this year, we are 9-for-13 on fourth down this year. If we were 4-for-13, I'm not doing it. I am not allowing us to go with those situations, but because of Taylor and his poise and the guys who are blocking for him and the guys who are catching the ball, I mean Nick England on that play ran a perfect route.
You know they were in man coverage, he ran by the safety, perfect route and ball, Taylor as he released the ball got hit pretty good. So it is more of a confidence factor with our guys, but from a defensive perspective, same with us. They ran a fourth and two late in the game when we were up 42-35 and they ran the option to get the first down, it's disheartening. You know to everybody, me included.