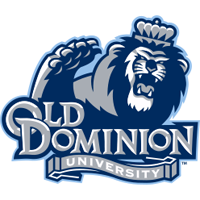 ODU football coach Bobby Wilder talks with reporters on Monday. ODU (3-6, 1-4 Conference USA) hosts Florida International (3-6, 2-3 C-USA) on Saturday at 3;30 p.m.
Good Afternoon everybody! Good afternoon to all our 12th Monarchs out there in Monarch Nation, Coming off a 42-28 loss down at Vanderbilt. A game that I felt like our team was ready and excited to play. We got off to a much better start this game with the score being 7-7 after the first quarter. The turning point in this game happened in the second quarter. We had a couple of defensive penalties that hurt us on third down. We had a drive stopped offensively on a fourth and one with a missed assignment up front, and even still we scored to cut it to 21-14 with 1:08 to go. Then the key drive in this game happened, we had a good kick, we pinned them, they come out on first down, get a two yard run, they're clearly going to let the clock run out in the first half. Then they pop a 27 yard run on us out to our 44 yard line, call a timeout with 19 seconds to go, and then hit back to back pass plays for a touchdown.  That put the score at 28-14 at the half, and that ended up being the difference in the game, with the final score being a 14-point difference.
Special teams wise felt like this was clearly our best performance we've had this year, particularly on our kickoff and kickoff return team. Cam Boyd had a 45-yard return that set us up in great field position. Our backup kicker right now, Satchel Ziffer, is doing an excellent job kicking the ball, putting it deep, placing it. Our coverage was outstanding against a return team that was on of the best return teams that we've faced this year. So that was really good to see, the kids worked really hard on that last week. We made a couple of adjustments personnel wise and it definitely showed improvement.
Defensively, the biggest area we improved on was our tackling. We went from having 49 missed tackles against Western Kentucky to only having seven missed tackles in this game. What really hurt us in this game were the four defensive penalties on our secondary. The first touchdown drive they had we had them at third and five and then Fellonte Mischer got called for pass interference, which it was. He broke the ball up with his left hand but he had his right hand on the receiver. Then the very next play they called pass interference on Reggie Owens, which was a very close call. They scored on that drive and then we had a couple others. One they called a personal foul on Justice Davila when we stopped them deep in their own end. He was going to tackle the receiver who he thought had the ball. When he realized he didn't have the ball, he let him go, he didn't take him to the ground, but the receiver went down and we got a late flag on that play which kept a drive alive that they scored on. So that's something we had not done, getting penalties on defense, but four of them in this game definitely hurt us and led to two touchdowns, drives they scored on that we would have been off the field on third down. We're just not good enough right now on defense to have those type of mistakes and be able to win a football game. They converted 67% on third and fourth down. They were nine for 15 and that's what led to the 88 plays. As I always say, the time of possession doesn't matter it's the number of plays that you run. They were a team that huddled; they were a team that took the clock down.  They took the 25 second clock all the way down so that gave them a lot of time of possession, but it was clearly the third downs that they kept converting on with those long drives.
Offensively we had a season low in plays. We only ran 48 plays in this game for 336 yards. We were efficient in terms of yardage but just not enough plays. If we were up around our usual 70-80 plays, it's going to be a 500 plus yard game. Third and fourth down we were 2-for-9. So offensively not converting on third and fourth down led to the fact that we had so few plays. With that combination of defensively not being able to get off the field, and offensively not being able to stay on the field, put us in a real bad way.  We had a fourth and one on their 33 in the second quarter after Cam Boyd's 45 yard return, that we did not convert. We had a missed assignment up front. Then in the third quarter we're on the 25-yard line we had a third and three and then a fourth and three and did not convert. A situation normally that we do convert. I felt like we were very good in the pass game but we hurt ourselves not being able to establish any run game. They clearly controlled the line of scrimmage on both sides of the ball and that's been an issue for us and certainly was in this game.
Speaking to this week's opponent florida international. They're 3-6 right now, 2-3 in the conference. Our biggest challenge will be it's another big physical team up front in the offensive and defensive lines. Offensively they are averaging 21 points 290 yards. They're good up front, the offensive and defensive line. They're playing two quarterbacks right now in McGough and Hilliard. Both guys have the ability to run the ball as well as pass the ball. Defensively this will be one of the  best defenses we've played against. They allow 24 points a game and 350 yards. They're third in the conference in total defense, and No. 1 in the conference in pass defense. They're leading the league right now in take-aways; they've cause 25 turnovers so far this year, which is a very big number.
We're excited about the game; we're excited to be back home. It feels like a long time since we've ben back home. It'll be good to be back in front of the 12th Monarchs.
Q: Bobby you guys are in kind of uncharted territories for the program in terms of losing streak record right now. What's the message, what do you tell the players and the coaches?
A: Stick to the plan. That's the number one thing. I talked to the team about it yesterday. Stay focused on the process of winning, which is the planning, preparation and execution. Keep a positive mental attitude and that is what we are going to do. That is the only way for us to get better as a football team and build, not just for now, but also for the future.
Q: Bobby I haven't seen FIU. Is this a typical team with a lot of Florida kids and a lot of speed too?
A: Yeah. That's very typical. That is the best way to describe them, that they have a lot of speed, particularly in their special teams. You know they are good on special teams. They have excellent returners, kids who are fast and can run. They are well coached; they have a really good scheme. They have lost some close games this year and their record could be much better. They stayed with Marshall well into the third quarter early into the fourth and they should have won at UTSA. I think they are a good football team. They are much better than last year, when they were 1-11 and getting blown out by everybody. This year they are in every game, the kids play hard and compete. Interestingly enough they have only had two away games. This is only their third away game of the year. The majority of their games have been at home. All four non-conference games were home games. So eight out of their 12 games are at home. They will be traveling up here. Hopefully the weather will be just right for them. I see the Saturday forecast might be a little chilly. Our Vanderbilt game was brisk, that is a good way of putting it. I think they are a good team and that they are well coached and have some really good players. They are trying to figure out their quarterback situation. It looks like just from watching all of their games and what they are doing. But their defense is very impressive. I think they are as good as, other than Marshall, who is clearly better than everybody else defensively, they are right up there with Rice and some of the other good teams I've seen defensively this year.
Q: They opened the season losing at home to Bethune-Cookman and you're just thinking 'Oh my gosh another disaster.' What has happened since then that you have seen to make them better?
A: It's clearly been the defense and the amount of takeaways. The defining game for them was at UAB, who's a 5-4 team right now with losses to Mississippi State and Arkansas. And they go in there and take the ball away six times and beat them. So the offense has been just efficient enough and they have been relying on their defense to take the ball away. They beat Florida Atlantic 38-10, and the defense scored in the game, special teams scored. So that has been the formula, to this point, to rely on the defense to get turnovers, help them score points and then play good special teams. That's the biggest difference I see in their team from this year and last year and from that first game they lost to Bethune-Cookman. That first game looked like their team last year. Every game since they have been very competitive in. They have a loss to Louisville. They have a loss to Pittsburgh. They were very competitive in the Pittsburgh game, which got our attention.
Q: Do you have injury updates on Christian Byrum and Vincent Lowe?
A: Yeah, I think both will be back for this week. Vincent is coming off that concussion and we're always very hesitant to put somebody back in with that until we make sure they are perfectly fine. He'll go through the strenuous physical test with the running and he'll do the computer test. But I anticipate from talking with our training staff that he will be back. Christian should be back. His motion is still somewhat limited. Up and around his neck area, but he told me he feels much better and thinks he is going to be healthy. This was a physical game for us, particularly our defensive players. So we have got a lot of guys bruised up pretty good. They played a lot of snaps. But I think we should be pretty close to full strength.
Q: Anyone else who might not play this weekend?
A: Not that I anticipate at this point. Just some guys we have got to see how they progress in terms of dealing with the fact that they were sore yesterday and generally today is just treatments and getting healthy. We should know more tomorrow at practice.
Q: Troy Butler, is it possible to medical redshirt him this year, is that something you are thinking of?
A: We are, we are currently working on that right now with our medical staff and compliance department to go through those procedures based on the limited number of games he played, that is an option for us. He is not going to be able to play the rest of this year. So, that is what we are pursuing at this point. I am hoping that it works out because he did not have a redshirt, Troy played as a true freshman. So we could be talking about having Troy Butler and Blair Roberts back next year healthy, which would be a couple of good recruits right there.