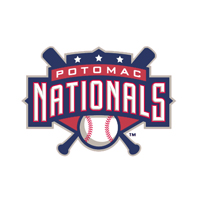 The Potomac Nationals (58-48, 20-17) dropped game two of a three game series against the Myrtle Beach Pelicans (65-43, 21-19) by an 8-6 count on Tuesday night.
The Pelicans struck first in the top of the first inning with three straight hits from LF Chris Garia, C Jorge Alfaro and DH Preston Beck to take a 2-0 lead. The P-Nats countered in the bottom of the inning when 1B Shawn Pleffner drove in DH Tony Renda with a sacrifice fly.
Potomac tied the game up in the second on a Garia error in left field. Garia dropped a lazy fly ball in the corner, and 2B Khayyan Norfork scored all the way from first base with two outs.
The Pelicans scrounged up single runs in the third, fourth and fifth innings to take a 5-2 lead. CF Lewis Brinson knocked in Alfaro in the third and fifth, and Garia scored 2B Christopher Bostick with a single in the fourth.
In a 5-3 game in the seventh inning, Myrtle Beach added three important insurance runs off RHP Richie Mirowski. All three runs came unearned after a throwing error by SS Stephen Perez that put Alfaro on base. Alfaro would score his fourth run of the game in the frame on a Brinson fielder's choice. Two more runs came across when Bostick laced a triple to the right-center field gap.
The P-Nats were not done, however, as they grabbed all three runs back in the eighth. Five consecutive hits off Pelicans' LHP Cody Ege made it an 8-6 game. The Nats couldn't muster up any more offense as they were stymied by RHP Abel De Los Santos in the eighth and RHP Jose LeClerc (Sv, 12) in the ninth. Potomac had the tying run to the plate in the ninth with one out, but LeClerc fanned RF Brandon Miller and got 3B John Wooten to fly out to end the game.
Pelicans' starter LHP Luis Parra (W, 8-6) picked up the win while P-Nats starter LHP Matthew Spann (L, 7-5) took the loss.
at www.potomacnationals.com, will broadcast the final game of a three game series against Myrtle Beach on Wednesday, July 30th. Broadcast coverage will begin with the P-Nats Leadoff Show at 11:50pm in preparation for the 12:05pm start. The P-Nats will send RHP Pedro Encarnacion (2-3, 5.33) to the mound while the Pelicans will throw RHP Ryan Bores (0-3, 3.04). Wednesday is the P-Nats first summer camp day in 2014. Kids from all camps in the area will be in attendance.