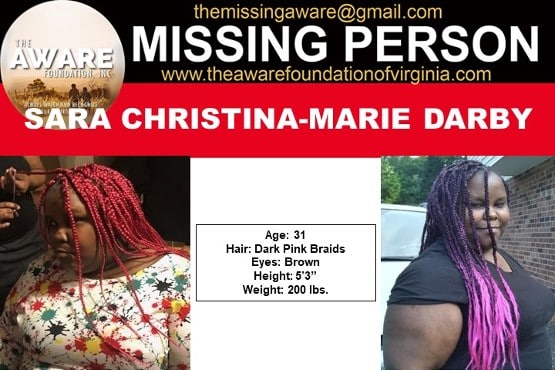 The Lynchburg Police Department is attempting to locate a missing 31-year-old female that is considered endangered.
Sara Christina-Marie Darby left her home walking just before 8 p.m., on Wednesday with an unknown black male. The male was described by a witness as being in his 30s, with short braids and a receding hairline, wearing jeans, a dark-colored jacket, dark-colored shoes, and carrying a duffle bag.
In the past, Darby has been located in the area of the Salvation Army on Park Avenue.
Darby is considered endangered as she is reported by her family to experience medical conditions that affect her cognitive abilities.
She was last seen wearing a short-sleeved shirt, dark-colored pants, black sandals, and carrying a small bag.
The family reported Darby does not have a cell phone.
Anyone with information about this case is asked to contact the Lynchburg Police Department at (434) 455-6041 or Crime Stoppers at (888) 798-5900.