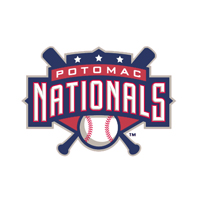 The Potomac Nationals (8-8) had their opportunities but could not rally past the Myrtle Beach Pelicans (11-7) who blanked Potomac in a 2-0 victory on Sunday night at Pfitzner Stadium.
The Pelicans had help from their pitching staff who shut down the Potomac offense all game long. LHP Andrew Faulkner (W, 7-1) struck out four over five innings without allowing a run to earn the victory. RHP Justin Springer and RHP Jose Leclerc (Sv, 9) took care of the final four innings to seal the win for the Myrtle Beach.
Myrtle Beach plated a run in the fifth and one in the ninth for insurance. A RF Preston Beck groundout in the fifth scored LF Nick Williams who reached on a walk. The run was charged to Nationals' starter LHP Matthew Spann (L, 5-4) who took the tough luck loss. Spann struck out four over his six innings of work and allowed just the one run.
The Nationals had their chances to take the lead early and tie the game late. In the second inning, DH Stephen Perez's leadoff double was stranded at third base. The P-Nats also left runners on first and second in the fourth when Faulkner fanned LF Justin Miller to end the inning. 1B Shawn Pleffner struck out in the eighth at the hands of Leclerc with SS Tony Renda standing at second base. Potomac went 1-2-3 in the ninth as Leclerc struck out three of the four batters he faced in the game.
Pelicans' hitting coach Josue Perez was ejecting in the eighth inning by home plate umpire Ben Levin. This marks the third time this season Perez has been tossed by Levin.
RHP Sam Runion struck out five in three innings of relief for Potomac including three in a row at one point. The lone blemish in his line was the RBI-single by Williams in the ninth to make it a 2-0 game.
The Potomac Nationals Baseball Network, which is accessible at www.potomacnationals.com, will broadcast the first game of a four game series against Wilmington on Monday, July 7th. Broadcast coverage will begin with the P-Nats Leadoff Show at 6:50pm in preparation for the 7:05pm start. The P-Nats will send RHP Ian Dickson (1-6, 6.11) to the mound while Wilmington will throw RHP Luis Santos (1-1, 7.06) for Myrtle Beach.