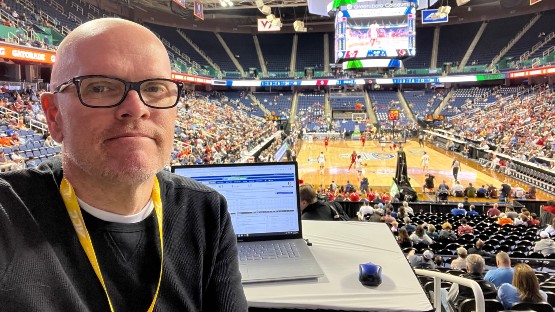 When we left the Greensboro Coliseum three years ago, I had no idea that I wouldn't see another ACC Tournament game in person for three years.
I skipped the 2021 Tournament because of a pulmonary embolism, then begged out of making the trip to Brooklyn in 2022 because New York was still acting weird about COVID, and after two years of COVID, I was done with having to mask up just to watch a basketball game.
So, here we are, courtside, sorta, kinda, actually a good couple of hundred feet away from the floor, up at the top of the lower section, because Augusta Free Press gets tons more readers than the legacy media, but, they're still the legacy media, and the floor seats go to the legacy media.
Anyway, I'm in the arena, and there's actual basketball being played.
Last time I was here, Clemson and Florida State were warming up for an ACC Tournament quarterfinal game, the first of four on the schedule for the day.
We'd just listened to John Swofford, then the longtime ACC commish, answer questions for an hour about why the league was going to play that day.
It wasn't all that convincing. As Wednesday's second round played out, the news from the outside world got worse and worse.
What I remember is Rudy Gobert of the Utah Jazz was diagnosed with COVID, which led the NBA to cancel some games, and then college conferences started falling in line, calling off their tournaments.
I remember being on press row for the UNC-Syracuse game that night – the same section and row I'm sitting in as I type this – and, man, what a surreal scene.
The Carolina fans, in particular, sitting a few feet to my right, were really into the game; all I could think was, this might be the last game of the season.
And it pretty much was.
I think a Big East game actually tipped off and got to halftime on Thursday.
Our Florida State-Clemson game never got past pregame warmups.
Swofford, catching his breath after the awkward press conference that morning, grabbed a microphone to declare FSU, the regular-season ACC champ, as the ACC Tournament champ, and the conference's automatic qualifier, in the event that there would be an NCAA Tournament.
Remember, we were being told at the time that the pending shutdowns would only last a couple of weeks.
Uh, huh.
My colleague, Scott German and I, on the way back home, stopped at a gas station just outside Greensboro.
That's where I remember hearing that the NCAA had already canceled the Big Dance.
Yeah, that escalated quickly.
The madness wasn't quite over.
Virginia's 2021 ACC Tournament run ended after a buzzer-beating win over Syracuse in the quarterfinals, after a player tested positive for, yep, COVID, which sent the team into quarantine for a week.
They got out just in time to be able to travel to their NCAA Tournament game as a four seed, and without practice or even shootaround time, they were upset by #13 seed Ohio.
Shouldn't be any of those worries this time around.
Just basketball.
The world is back on its axis.