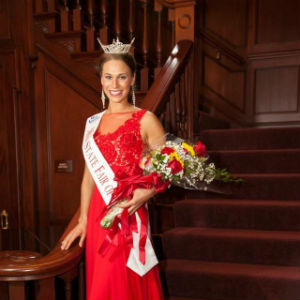 Harlie Dale of Montgomery County is the 2016 Miss State Fair of Virginia. Dale, 23, is pursuing a master's degree in human services counseling at Liberty University and holds a bachelor's degree in human development from Virginia Tech.
She is employed as an in-school suspension counselor at Blacksburg Middle School. She was crowned Sept. 27 at the State Fair and will compete in the Miss Virginia pageant next June.
Her personal platform is "Autism Awareness: Seeing the Spectrum." Her talent is baton twirling, and she was 2013 College Miss Majorette of America and the feature twirler for the Marching Virginians: Twirling Ambassador to Peru in 2008 and St. Thomas in 2015. She said she chose her platform after meeting a baton twirler named Richie who has autism.
"Richie wanted me to do a duet with him, and it really opened up my heart and eyes and made me want to give back to people like Richie. I believe one of the best choices we can make in life is to treat others how we want to be treated. And I hope to educate youth to better understand and accept their peers who are on the autism spectrum."
Dale succeeds the 2015 Miss State Fair of Virginia, Taylor Reynolds of Chesterfield County.
Morgan Rhudy of Chesterfield County was named Miss State Fair of Virginia's Outstanding Teen. Raygen Wright of Franklin County was named Miss State Fair of Virginia's Princess. The pageant awarded more than $1,500 in scholarship funds.
The titleholders' first public appearance was the Sept. 27 State Fair of Virginia Parade.
It was during the parade that two bands captured the State Fair of Virginia Marching Band Championship Cup. The Lancaster High School Red Devil Band of Lancaster County, directed by Robert Spiers, won in the division for bands of 75 or more students. The Washington & Lee High School Eagle Band of Montross, directed by Kelly Wright, won in the division for bands of fewer than 75 students.
This year's State Fair of Virginia will run through Oct. 4. Tickets and fair information are available at StateFairVa.org. Tickets also may be purchased at Walgreens locations throughout Virginia.
The 2015 fair features nearly 400 hours of performances, houses about 2,500 animals, attracts more than 10,000 competition entries, welcomes field trip groups from 270 schools and serves about 13,000 corn dogs. More than 1,000 youth will compete for up to $70,000 in scholarship money.
The State Fair is held each fall at its permanent home at The Meadow Event Park in Caroline County. The fair's mission is to increase agricultural and natural resource awareness and interest through educational programs, exhibitions and competitions in a fun, family-friendly setting.