Virginia head football coach Mike London announced today the hiring of Mike Archer as a defensive assistant coach. Archer returns to Virginia after spending the 1991 and 1992 seasons at UVa as the linebackers coach on George Welsh's staff. Archer's specific coaching duties will be announced at a later date.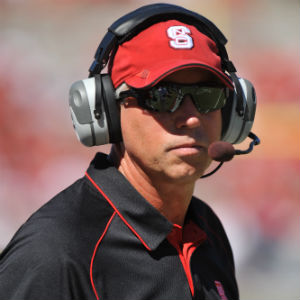 Archer boasts 37 years of coaching experience, including four years as the head coach at lsu and seven years as an assistant coach in the NFL with the pittsburgh steelers.
Most recently, Archer was the defensive coordinator for six seasons at NC State from 2007 to 2012. He served under current UVa associate head coach for offense Tom O'Brien. Archer and O'Brien previously worked together at Virginia during the 1991 and 1992 seasons.
Current UVa associate head coach for defense/defensive coordinator Jon Tenuta also worked with Archer at NC State from 2010-12.
"I'm pleased to announce the hiring of Mike Archer to complete my staff," London said. "Coach Archer has excellent coaching credentials and a track record of accomplishments. He will be a great teacher for our defensive players and his prior relationship with Coach Tenuta will be a tremendous asset in our preparation for the upcoming season."
At NC State, Archer oversaw a defensive unit that picked off a school record 27 interceptions in 2011. The interception mark led thenation and tied as the second-best effort in ACC history.  Archer's 2010 NC State defense held two opponents to negative yardage in rushing andranked second in the league in rush defense. The Pack was also second in the ACC in sacks. The 2008 Wolfpack defense forced 28 turnovers, 20th in the NCAA. That mark included 17 interceptions which ranked 13th nationally. The 2007 Wolfpack defense ranked 25th nationally in passing efficiency defense.
Prior to his time at NC State, Archer spent seven seasons at Kentucky with a seven-year stint as the linebackers coach of the pittsburgh steelers breaking up his tenure with the Wildcats.  Archer started at Kentucky in 1993 as the defensive backs and linebacker coach. In1995 he was elevated to assistant head coach, defensive backs and linebackers coach.  In 1996 he left for the Steelers where he stayed through the 2002 season, helping Pittsburgh to four divisional championships. From 2003-06 Archer returned to Kentucky to be its defensivecoordinator.
Kentucky's 2006 defense forced 28 turnovers, as the Wildcats ranked fifth nationally in turnover margin.
While with the Steelers, Archer coached a pair of two-time pro bowl selections (Jason Gildon, Levon Kirkland) and two other pro bowl selections (Joey Porter and KendrellBell). Kendrell Bell was named NFL Defensive Rookie of the Year in 2001. Archer assisted a Steeler defense that led the NFL in rushing defense in 2002.
In 1987, at 34 years of age, Archer became the youngest Division I FBS head coach when he succeeded Bill Arnsparger at LSU.  Archer came to lsu as the defensive backs coach in 1984 and was elevated to defensive coordinator and defensive backs coach for the 1985 and 1986 seasons. When Arsnparger left his post to become the athletics director, he handpicked Archer as his successor. In his three seasons as an lsu assistant, the Tigers posted a 26-8-2 mark and played in three bowl games.
Archer's first lsu team finished the season ranked No. 5 in both major polls with a 10–1–1 record, losing only to Alabama and tying Ohio State. It was LSU's first 10-win season in more than 25 years. Archer's Tigers followed up with an 8–4 record and a Southeastern Conference title in 1988. Archer posted a 27-18-1head coaching record at lsu from 1987-90.
A 1976 graduate of Miami (Fla.), Archer started his coaching career with the Hurricanes in 1976 as a graduate assistant. In 1978 he was elevated to a full-time assistant coach. From 1979-83 Archer served as the defensive backs coach on Howard Schnellenberger's Miami teams, including the 1983 national championship squad.
Archer was a defensive back and punter at Miami from 1973-75. The State College, Pa., native earned a master's of education from Miami in 1978.
Archer is married to the former Barbara Pollak of Kansas City, Mo. The couple has a son, Jeff, a 2006 Kentucky graduate who played football and baseball for the Wildcats, and a daughter, Betsy, who graduated from Kentucky in 2007.