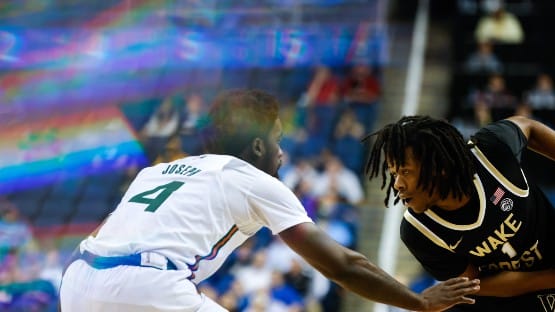 Miami led by 18 with 9:51 left, but had to survive a halfcourt prayer that missed wide right at the buzzer to hold off Wake Forest, 74-72, in the ACC Tournament quarterfinals on Thursday.
The top-seeded 'Canes (25-6) made 11 of their first 13 shots to open the second half to extend a five-point lead at the break to 61-43 on a Nigel Pack layup at the 9:51 mark.
Wake (19-14), the #9 seed, inched back into the game, getting the margin to single digits on a Bobi Klintman three with 4:59 to go, pulling within six on an off-balance Tyree Appleby three with 3:17 remaining, and another three, from Cameron Hildreth, with seven ticks on the clock, got the deficit to two.
Wooga Poplar missed the front end of a one-and-one with 2.7 seconds left, but Wake, without a timeout, was reduced to having to attempt a halfcourt heave from Daivien Williamson, which came nowhere near as time expired.
The game pitted the top two vote-getters in the ACC Player of the Year race, Miami's Isaiah Wong, who was named the player of the year, and Appleby, who was the runner-up.
Wong had 17 points on 7-of-10 shooting and five assists in 34 minutes.
Appleby had 24 points, but needed 24 shots to get there – he was 8-of-24 from the floor, 5-of-15 from three, to go with five assists in 40 minutes, a day after logging 39 minutes in Wake Forest's 77-74 win over Syracuse in a second-round game.
Hildreth had 17 points and seven assists for the Demon Deacons, and Williamson, whose three with a half-second left put Wake into the quarterfinals, had 14 points.
Miami got 18 points and nine boards from Jordan Miller, and Norchad Omier had 14 points and 10 rebounds.
Miami advances to Friday's semifinals to play the winner of the #4 Duke-#5 Pitt game.
Wake awaits its postseason fate, which one would assume would involve an NIT bid.