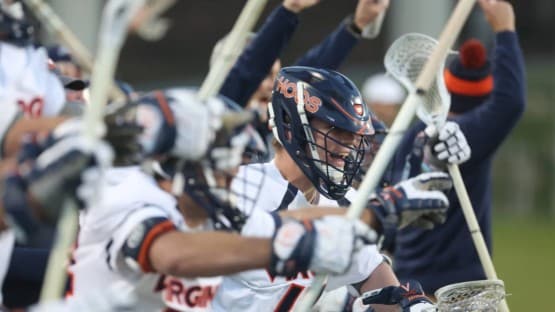 #1 Virginia dominated Richmond, 25-8, at Klöckner Stadium Saturday night in the program's annual One Love Foundation game.
The Cavaliers (4-0) collected 52 ground balls, including 10 by faceoff specialist Petey LaSalla, who dominated the center X, going 19-for-26.
Defenseman Cade Saustad and long-stick midfielder Tommy McNeal also snagged six ground balls each. Virginia finished the game 28-for-29 on its clear attempts.
Xander Dickson led all goal scorers with six on seven shots and added four ground balls. Payton Cormier (3g, 3a), Patrick McIntosh (3g, 2a), Thomas McConvey (3g, 1a) and Connor Shellenberger (1g, 3a) also led the effort offensively for the Hoos.
Matthew Nunes (4-0) earned the win in 50:21 of action after stopping nine UR shots, while giving up just six goals.