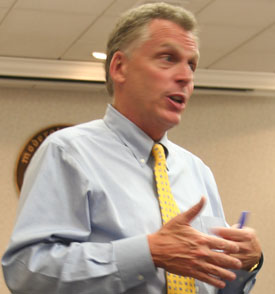 Virginia gubernatorial candidate Terry McAuliffe on Saturday released his plan to support Virginia's rural communities, which close to one quarter of Virginians call home. McAuliffe's plan, "Growing Virginia's Rural Economy," outlines how McAuliffe will support Virginia's small towns, farms, and forests, and how he will encourage job creation across the Commonwealth.
"We need to make sure all Virginians in every part of the Commonwealth have access to economic opportunity and good jobs," said McAuliffe. "That is why as governor, I will work to ensure that Virginia's rural communities have quality education systems, that we support Virginia's agriculture industry, expand broadband services and cell phone coverage, and that we promote tourism across rural Virginia."
Growing Virginia's Rural Economy
It's critically important that we invest in our economy and job creation all across the Commonwealth.  Close to one quarter of all Virginians live in rural counties, and our small towns, farms, and forests are a crucial part of our Commonwealth's heritage and identity.
1.    Improving Rural Education. 
Rural Virginia lags behind the rest of the state in educational attainment. In an economy where more and more jobs require advanced training, 1-in-4 rural Virginians do not have a high school degree, and we can be doing far more to keep our kids in school and on track.  Terry supports a renewed focus on rural education, and as governor he will:
a.     Adopt innovative strategies like the Rural Horseshoe Initiative. The Rural Horseshoe Initiative's plan to incentivize adult education programs and place career coaches in high schools provides a path forward for these rural counties, and we should look at ways the state can partner with that organization and use it as a model.
b.     Build strong partnerships with community colleges.  Building partnerships between K-12 schools and our community colleges can pay tremendous dividends in improving educational outcomes for rural students.
c.     Provide sustainable financial support for community colleges.  Investing in making our community colleges engines of workforce development and protecting the community college transfer grants can increase student performance and get more of our kids college- or career-ready.
2.    Building rural infrastructure.
With almost a quarter of all Virginians living in rural communities, it is important to ensure that these areas have the critical infrastructure they need to compete for the jobs of the 21st century.
a.     Expand rural broadband and cell service. A 21st century rural economy is impossible without good cell phone coverage and broadband service.  Terry will work to create public private partnerships with data providers so that this infrastructure is available to all Virginians who need it.
b.     Invest in the infrastructure of exportation. As governor, Terry will prioritize investments in the Port of Virginia, Inland Ports, and other projects that make it easier for agriculture and forestry professionals to get their products to the port and, eventually, overseas markets.
i.               Work with the federal government to invest in short line rail.  As governor, Terry will work with industry partners and the federal government to invest in short line rail.  Rail lines like the Buckingham Branch are critical to helping Virginia's rural businesses get their goods to market.
c.     Use transportation funding to fix existing infrastructure. As governor, Terry will use the new transportation funding on a "fix-it-first" basis that prioritizes existing infrastructure like decaying rural bridges subject to declining county weight limits that hurt the ability of our forestry industries to move their products efficiently.
d.     Prioritize new projects that improve rural connectivity. Certain transportation projects that connect isolated rural communities to markets and centers of employment are crucial to rural economic development.
3.    Investing in sustainable agriculture and forestry job creation.  For centuries, agriculture and forestry have provided jobs to generations of Virginians. We need to make strategic investments now to ensure their sustainability for generations to come.
a.     Prioritize investment in rural job creation programs. The Agriculture and Forestry Industries Development Fund (AFID) is relatively new program that invests in creating jobs in rural communities. Started in 2012, this program has already created over 700 jobs in areas that need them the most. This fund should be expanded over time as resources and projects become available.
b.     Promote land grant colleges. Virginia's nationally renowned land grant colleges – Virginia Tech and Virginia State – perform cutting edge research that keeps the Commonwealth's agriculture and forestry workers and companies competitive.
ii.              Leverage private funding for agriculture and forestry research centers. Dotted throughout the Commonwealth, these installations conduct important field research on agriculture and forestry. Strategic use of challenge grants in this area can leverage private funding for these centers and get more bang for the taxpayer's dollar while helping keep Virginia industry profitable and growing.
c.     Protect the Cooperative Extension Service. The Cooperative Extension Service is a strong partnership of professors, students, extension agents, farmers, and forestry professionals. With 107 offices in communities all over the state, Terry understands that this service plays a crucial role in rural life and business.
d.     Fulfill our commitment to the reforestation. The Reforestation of Timberlands program represents a commitment by the Commonwealth to invest in the sustainable, profitable management of our 16 million acres of forestland. Terry will work to fulfill that commitment and protect this critical resource. Expand the "Bio-Economy".  Every day, researchers around the world are discovering new uses for agriculture and forestry products. From bulletproof vests from bio-materials, to a program at Virginia Tech that makes plastics out of waste poultry feathers, these technological advances create new markets and new revenue streams for agriculture and forestry. With our network of universities and our diverse biological resources, Virginia has a tremendous opportunity to become the center of an east cost bio-economy hub.
e.     Advocate with Virginia's Congressional delegation for the passage of a modern, bipartisan farm bill.  The federal Farm Bill affects every aspect of Virginia agriculture and forestry. As Governor, Terry will advocate with our Congressional delegation to break gridlock and support a bipartisan, robust bill.
f.      Help veterans become farmers and forestry professionals. Their training, experience, and ethic of service make veterans uniquely suited to the farming and forestry lifestyle. As governor, Terry would support programs to reach out to our veterans and offer them training and opportunities to enter this growing industry as workers and owners.
4.    Smart Investment in the Rural Economy.
Through smart, efficient incentives, promoting tourism and preserving Virginia's beautiful natural resources, Terry will work as governor to make smart investments in the economic future of Virginia's rural communities.
a.     Business incentive programs.  We can continue to grow jobs in rural Virginia through targeted incentives in sectors like advanced manufacturing.
i.               Making sure our incentive programs actually work. By requiring strong rules for data collection and verification we can ensure that Virginia's business incentives and assistance are actually working for Virginia's economy.
ii.              Supporting struggling economies.  By increasing focus on Southside and Southwest Virginia and partnering with the Tobacco Commission, we can help diversify and strengthen those rural economies that are struggling the most in these tough economic times.
b.     Promoting tourism in rural Virginia.  We've got incredible attractions throughout rural Virginia.  Places like Breaks Interstate Park, the John Flanagan Reservoir, Natural Bridge, Luray Caverns, the Blue Ridge Parkway, and scores of others.  We need to ensure that Virginia's state funding for our tourism promotion efforts is stable and consistent.  It makes it unnecessarily difficult for our promotion efforts to have wildly differing funding levels from budget to budget.
c.     Preserve open space. Virginia's natural beauty and open spaces are a crucial part of our identity. In order to preserve the natural and rural character of our Commonwealth, we need to continue the work of past administrations to protect open space.
i.               Protect the land preservation tax credit. Virginia's program of land preservation is routinely ranked as the best in the nation. As Governor, Terry will protect and promote the outstanding Land Preservation Tax Credit.
ii.              Preserve at least 400,000 acres of open space over four years. This pledge is the centerpiece of a bold, bipartisan agenda. Begun by Governor Kaine and continued by Governor McDonnell, this aggressive preservation of open land secures our environmental future for generations.
iii.            Prioritize publicly accessible land. Where appropriate, land preserved by tax dollars should be publicly accessible. This may include innovative public/private partnerships to open or reopen parks around the state.
5.    Protecting the Character of Our Communities
Entirely too many rural cities, towns, and counties are seeing families move away as struggles with addiction and a lack of economic opportunity make it harder to raise a family.  As governor, Terry will push for policies that protect our rural communities, such as:
a.     Increased drug treatment and enforcement.  We need to step up policing but simply throwing drug addicts in jail hasn't solved our problems.  That's why Terry supports:
i.               Increased rural drug enforcement.  We need to get a handle on production and sale of substances like methamphetamine.
ii.              Increased use of Drug Courts.  Virginia should also embrace greater use of drug courts for non-violent drug offenders.  These programs have strong track records of success.  They save the Commonwealth money and help return citizens to a life of productivity rather than a life of recidivism. Prosecutors can focus on cracking down on violent criminals who threaten our communities.