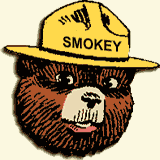 In honor of 70 years of fire prevention service, Governor Terry McAuliffe officially declared August 9, 2014, Smokey Bear Day in the Commonwealth of Virginia.
To celebrate, the Chrysler's first free Family Day since reopening features festivities to honor America's favorite firefighter, as well as the debut of the Museum's exhibition Celebrating Smokey Bear: Rudy Wendelin and the Creation of an Icon.
"We like to consider Smokey Bear a Virginian, as Rudy Wendelin, the artist who drew him, lived here for many years—and we're honored to host this celebration," said Chrysler deputy director Susan Leidy. "Our visitors will learn more about Smokey's 70-year history through this fascinating exhibition of paintings and memorabilia for the next six months."
This year also marks the 100th anniversary of the founding of the Virginia Department of Forestry. State Forester of Virginia Bettina Ring said, "Smokey Bear has been at the forefront of our wildfire prevention efforts for 70 years. We'll never be sure of the exact number of fires that never occurred because people heeded Smokey's advice, but we do know that there are far less wildfires since Smokey's been on the job. It's a great honor for Smokey to be recognized by the Governor in this way." The state proclamation was announced at a private reception including Lieutenant Governor Ralph Northam, officials from the Virginia Department of Forestry and the U.S. Department of Agriculture, members of the Wendelin family, and Museum staff.
One Day Only: Meet Smokey Bear
The free Family Day starts at 10 a.m. and features a caricaturist and creative hands-on activities such as papermaking, forest collages, coloring, and sculpting small Smokey Bears. A Family Tour of the exhibition begins at 11 a.m., followed by a special tour for active-duty military and Blue Star Families at noon. Throughout the day, The Museum Shop will feature Smokey-themed souvenirs and lucky guests will win raffles for exhibition posters. After enjoying the show, guests can write a personal letter to Smokey (who has his own ZIP code), and pick up a special free keepsake booklet produced by the Virginia Department of Forestry.
The birthday bear himself will be at the Chrysler from 12:30 to 3 p.m. to meet visitors and pose for photographs. At 1 p.m., everyone is invited to enjoy birthday cake (without candles, in deference to our special guest's preference to prevent wildfires). Guests are encouraged to share their bear-hug photos and memories of the day on the Museum's Facebook page (facebook.com/ChryslerMuseum) and other social media with #selfieswithsmokey.
About the Exhibition
Celebrating Smokey Bear: Rudy Wendelin and the Creation of an Icon showcases the art that created an unforgettable piece of Americana—and the artist behind it all. Though Smokey Bear was introduced in 1944, his public image was largely invented by artist Rudy Wendelin (1910–2000). The Kansas native worked as an illustrator for the U.S. Forest Service from 1937 to 1973. During that time, and for two decades beyond his retirement, he was responsible for drawing Smokey Bear. It was Wendelin who conceived Smokey's now-popular image. He created a serious, but friendly, almost human bear wearing a ranger hat and jeans, often carrying a shovel to cover still-smoldering campfire ashes.
Thanks to Wendelin's vision for the appearance and demeanor of the ursine spokesman (and ongoing help from the Ad Council), Smokey and his famous warning, "Only You Can Prevent Forest Fires," have become the longest running public service campaign in U.S. history. Smokey Bear has helped reduce the number of acres lost annually to wildfires from 22 million to 8.4 million.
The exhibition, commemorates not only one, but two anniversaries—Smokey Bear's 70th birthday and the centennial of the Virginia Department of Forestry, which organized the show. Anchoring the exhibition are 19 of Wendelin's original paintings of Smokey Bear. The artworks, on loan from Special Collections of the National Agricultural Library, U.S. Department of Agriculture, have never before been on public display. The show also includes preparatory drawings, memorabilia, and collectibles inspired by Wendelin's iconic artwork. "We would like to thank the Virginia Department of Forestry and the National Agricultural Library for giving us this unprecedented opportunity," said Chrysler Museum deputy director Susan Leidy, education director Anne Corso, and interpretation manager Seth Feman, who served as co-curators. "We are delighted to tell the story about the creation of this all-American icon who is so familiar and important to all of us."
Celebrating Smokey Bear: Rudy Wendelin and the Creation of an Icon will be on view in the Focus Gallery (G. 229) at the Chrysler Museum of Art through February 1, 2015. Admission is free.
About the Chrysler Museum of Art
The recently expanded Chrysler Museum of Art is one of America's most distinguished mid-sized art museums, with a nationally recognized collection of more than 30,000 objects, including one of the great glass collections in America. The core of the Chrysler's collection was given to the Museum by Walter Chrysler, Jr., an avid art collector who donated thousands of objects from his private collection to the Museum. In the years since Chrysler's death in 1988, the Museum has dramatically expanded its collection and extended its ties with the Norfolk community. The Museum now has rapidly growing collections, especially of contemporary glass and 21st-century works.
In 2011, the Chrysler opened a full-service glass studio to tie with a 560-pound capacity glass furnace, a full hot shop, a flameworking studio, nine annealing ovens, and a coldworking shop. In addition, the Chrysler Museum of Art also administers two historic houses in downtown Norfolk: the Moses Myers House and the Willoughby-Baylor House.
The Chrysler Museum of Art, One Memorial Place, Norfolk, and its Perry Glass Studio at 745 Duke St., are open to the public Tuesday through Sunday. The Historic Houses on East Freemason Street are open weekends.
General admission is free at all venues, and Family Day is generously supported by the Bunny and Perry Morgan Fund. For more information on the Chrysler Museum of Art, visit chrysler.org.