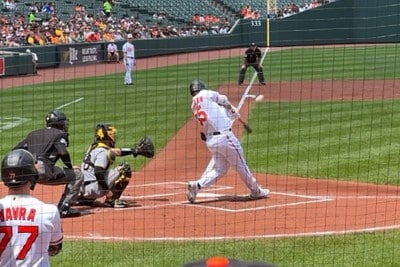 Spending this past weekend in Baltimore revealed to me that O's fans are still upset over the trade of franchise hero Trey Mancini.
I wish I'd snapped a photo of the guy in line in front of me at Camden Yards on Sunday who taped a message on his Mancini jersey.
"WE WILL" was on the first piece of tape.
"MISS" was on the second.
The guy behind me in line at Boog's BBQ was openly questioning the move, considering what O's general manager Mike Elias got in return – two decent High-A prospects, the better of whom needs Tommy John surgery and is out until 2024.
It's not so much like it is for Washington Nationals fans, who have to endure GM Mike Rizzo sending off generational talent Juan Soto for a haul of top San Diego Padres prospects, after Soto informed the team that he plans to test the free-agent market in the 2023 offseason.
No offense to Mancini, but Mancini isn't Soto. Losing Mancini (10 HR, 41 RBI, .751 OPS, 1.9 WAR in Baltimore in 2022) isn't going to change the O's long-term.
Mancini, 30, was likely to leave after the 2022 season anyway.
But for the next couple of months, having Mancini around would have been a help for an Orioles team that improbably finds itself in a wild-card race.
After taking two of three from Pittsburgh over the weekend, Baltimore finds itself two games out of the third AL wild-card spot, with the season now at the two-thirds mark.
Elias, though, stuck to his rebuilding plan, trading Mancini and closer Jorge Lopez (4-6, 1.68 ERA ,19 saves, 1.9 WAR in Baltimore in 2022) for prospects.
He told reporters last week that he didn't want to be seen as "putting all of our chips in" to the second half of 2022, that it's a "decade-long window" that he is hoping to open up, though you have to wonder, given the economic realities.
I was in the O's Team Store before the game on Sunday, and decided to spring for a new jersey, and made the call to go for an Adley Rutschman, the top pick in the 2019 draft who's already impressing at the big-league level.
My thinking there with the jersey pick: at least Rutschman (5 HR, 19 RBI, .804 OPS, 2.7 WAR in 61 games in 2022) will be around for a while. He will be under team control contract-wise through the 2028 season, which is an eternity from now.
I made the same call when I bought a pair of Nats jerseys a couple of years back – Trea Turner, who was under team control through 2022, and Soto, who the Nats had under team control through 2024.
Both were traded well ahead of time after signaling that they planned to test the free-agent market.
The Nats and O's are under similar constraints in terms of baseball finances. The Nats, according to Forbes, reported $322 million in team revenues in 2021, ranking 11th in MLB; the O's reported $251 million, ranking 26th.
Which is to say, neither are the Los Angeles Dodgers ($565 million), the New York Yankees ($482 million), the Boston Red Sox ($479 million).
The O's are more like the Tamp Bay Rays ($252 million), who play moneyball better than anybody, managing to remain competitive in the AL East despite having to run tight payrolls because the front office puts an emphasis on drafting and player development.
The Orioles may be in that position for the long term that Elias talks about. For all its charms, Baltimore is the 28th largest TV market in the U.S., according to Nielsen, with roughly one-seventh the number of local TV sets as New York, and one-fifth the number in LA.
The Dodgers make $320 million a year from their local TV deal; the O's (and Nats), $60 million.
I understand the focus on the long-term. But I also know that the future isn't guaranteed.
Baseball can be especially cruel in that way.
If you've got a chance to get a playoff spot, you've got to take it.
I'm not suggesting that Elias needed to be a buyer at the deadline, but it wouldn't have hurt his plan in the slightest to have kept Mancini and Lopez, particularly given the limited returns in those two trades.
Based on their WAR numbers, Mancini and Lopez were worth 3.8 WAR through the deadline, making them worth another 2.1 WAR over the final third of the 2022 season.
That's two more wins for the Orioles over the guys replacing them.
Two wins could be the difference between getting a wild card and not.
Even if the O's were to go out in the wild-card round, hey, that's experience for the young guys for next year and beyond that will be invaluable.
And as Nats fans can attest, a wild card is all you need to be able to make a run at something more meaningful.