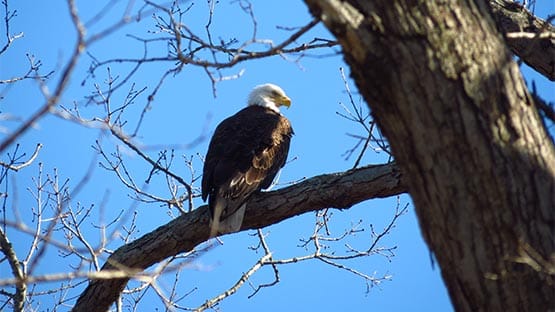 The 25th annual Eagle Festival at Mason Neck State Park in Lorton returns on May 13.
There will be two early morning bird walks led by volunteers from the Audubon of Virginia. Both walks begin at the Bay View Trailhead near the picnic area. The first bird walk is at 8:15 a.m. and the second is at 9 a.m. The walks are free to the public but limited to 15 participants to each walk. Registration is required.
The Eagle Festival includes live animal shows, hands-on educational opportunities and outdoor recreation clinics that all aim to highlight the rich natural history of Northern Virginia and foster stewardship of our environment.
"New this year will be a special performance by Janice the Griot, a multi-cultural storyteller based out of Maryland," said Mason Neck Park Chief Ranger of Visitor Experience Jamie Leeuwrik. "Weather permitting, we will be bringing back the Boating Bonanza at the paddle launch where participants may use a canoe, kayak or paddle board on Belmont Bay."
This event celebrates the decades of conservation work that has taken place on the Mason Neck Peninsula. Eagle Festival is an opportunity to bring together the local community for programs and activities all in the name of conservation and preservation.
"Conservation efforts began to save the bald eagle, but there have been so many other species of flora and fauna that have benefitted from the thousands of acres of public land preserved along the peninsula," said Mason Neck State Park Manager Lance Elzie. "Eagle Festival is a day where we can all come together to celebrate the work that has been done in the past and learn how to continue that work in the future, while also having fun."
Guests will have the opportunity to see live reptiles, hawks and owls up close as well as learn about the park's resident bald eagles and see them fly overhead.
There will be live music, food, pony and wagon rides and exhibits from conservation partners.
For more event details, visit www.virginiastateparks.gov/eaglefestival.