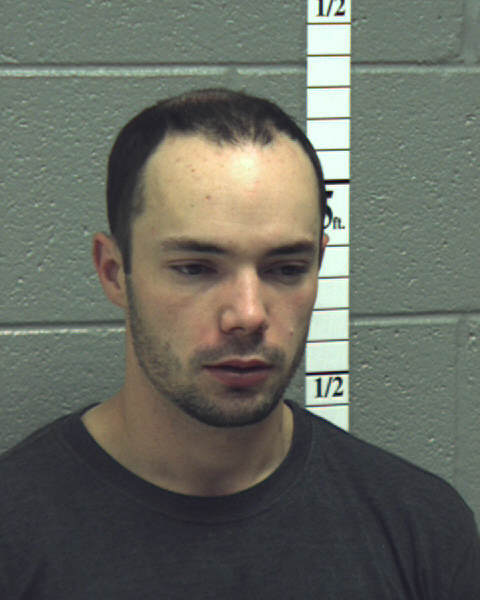 The Waynesboro Police Department arrested a Rockingham County man for a felony traffic violation after a car crash Thursday night that sent two people to the hospital.
Officers arrested Cody Lee Greenwood, 28 years old of Fulks Run, for his involvement in the two vehicle wreck after he fled the scene but was found shortly afterwards.  On January 8 at approximately 10:30 PM, the Waynesboro Fire Department, Waynesboro First Aid Crew and police officers responded to the intersection of Bridge Avenue and Sherwood Avenue for a report of a car crash involving injuries.  As emergency workers were en route, they received information that one of the drivers had fled on foot.
At the scene, the officers found a 1996 Ford Explorer and 2002 Mercury Grand Marquis, which was a taxi, with significant damage.  The driver of the taxi, a 37 year old man, and the passenger, a 39 year old woman, both of Waynesboro were injured in the crash and were subsequently transported to Augusta Health Emergency Department by ambulance with non-life threatening injuries.  They indicated that the driver of the Ford Explorer had fled after the accident and they were unable to pursue him do to their injuries.  Other responding officers searched the area for the Explorer's driver based on a clothing description provided by the victims.  Meanwhile, officers determined that the Explorer was traveling north on Sherwood Avenue when it ran a stop sign at the intersection with Bridge Avenue and broadsided the taxi which was traveling west.  The Explorer then hit a utility pole on the shoulder near the intersection.  Damage to both vehicles was estimated at $15,000.
Approximately forty-five minutes later, an officer spotted an individual matching the clothing description as the runaway driver at the intersection of Bridge Avenue and Florence Ave, one block away from the accident scene.  That individual, identified as Cody Greenwood, is the registered owner of the Explorer.  Several other personal items belonging to Greenwood were found in the vehicle as well.  Greenwood appeared heavily intoxicated and was arrested for public intoxication.  He was later served with a felony warrant for Hit & Run:  Involving Personal Injury.
Greenwood was transported to Middle River Regional Jail where he was eventually released on a $2,500 bond.