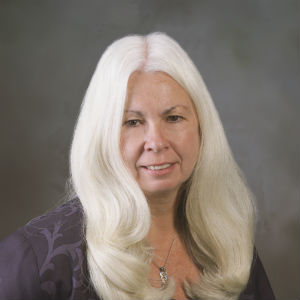 Lynn A. Nystrom, longtime director of news and external relations for the Virginia Tech College of Engineering and mentor to the hundreds of students and alumni, died Dec. 3 after a battle with cancer. She was 63.
Nystrom, who lived in Christiansburg, wrote thousands of stories promoting the research, discoveries, breakthroughs, and personalities of faculty, staff, alumni, and students within the College of Engineering. Through her work, Nystrom helped vault the College of Engineering into the national spotlight, helping it gain in stature among scores of rankings, including U.S. News & World Report.
She started working with Virginia Tech's news bureau in December 1977, covering stories for the university, including the College of Engineering and the College of Agriculture and Life Sciences. Nystrom joined the College of Engineering two years later under then-dean Paul E. Torgersen as its first dedicated news director. She served under four successive deans: G. Wayne Clough, F. William Stephenson, Hassan Aref, and current dean Richard Benson. Prior to her career at Virginia Tech, she was editor of the Blacksburg Sun, a weekly newspaper.
"Lynn's impact is immeasurable. When I read her news releases about our faculty and staff, I swell with pride. I am especially moved by Lynn's stories of our extraordinary students. Such talent! Such generosity! Such an Ut Prosim spirit!" said Benson. "Lynn has been the person who, more than any other, made the Virginia Tech College of Engineering into a family, from our newest undergraduates to our oldest alumni. At our times of triumph and happiness, Lynn found just the right words. At our times of loss and sadness, Lynn found just the right words. Who do we turn to now to find just the right words at the passing of this beloved member of the Virginia Tech Engineering family? I miss my dear friend."
Among her notable stories: The building of System X, a then-astounding 12.25 teraflop supercomputer built by the Virginia Tech Department of Computer Science. Nystrom also was vital in promoting early work of Stefan Duma in rating football helmets for safety, and covered work by civil engineering's Marc Edwards in uncovering malfeasance among water authorities in Washington, D.C.
"Lynn devoted virtually her entire career to Virginia Tech and her beloved College of Engineering," said Lawrence Hincker, who retired in September as associate vice president for university relations at Virginia Tech. "She passionately and prolifically promoted students, faculty, and alumni highlighting their world class excellence now known around the globe. For those of us in the Virginia Tech public affairs community, she was a trusted and tremendously respected colleague."
Ken Haines served as director of information for Virginia Tech during the 1970s and hired Nystrom. "Lynn was one of my early hires and unquestionably one of the best reporters we had at Virginia Tech," said Haines, now president and CEO of Raycom Sports, a sports television program syndicator based in Charlotte, North Carolina. "Not only was she a wonderful employee, we remained close friends ever since, for more than 35 years. She was that kind of person –  friendships were vital to her life."
Nystrom mentored the Virginia Tech Student Engineers' Council, a nonprofit, self-funded group run by undergraduates. The group has been recognized multiple times as the most successful philanthropic college student group of its kind in the nation. Under her guidance, the group has raised hundreds of thousands of dollars to fund scores of faculty student-led projects, such as the Blind Driver Challenge. It also hosts one of the largest student-run career fairs in the nation, with 275 companies participating this past fall.
At the end of each academic year, Nystrom hosted dozens of Student Engineers' Council members at her home for a pool party and food, most of which she cooked herself. She considered the party a yearly highlight.
"I met Lynn as a first-semester freshman when I began working with the Student Engineers' Council, which she selflessly mentored for many, many years," said Ashley Taylor of Max Meadows, Virginia, and a master's student in mechanical engineering. "Like so many students before me, Lynn took me under her wing, patiently molding me with her contagious courage. In Lynn was the type of genuine kindness that makes the world more radiant."
Nystrom also served as adviser to The Collegiate Times, Virginia Tech's independent student newspaper and the oldest newspaper in Blacksburg, and Engineer's Forum, a student publication from its inception.
Her dedication to alumni was unparalleled. She aided the late Paul Torgersen in launching the college's Committee of 100, a group of college alumni, family, and supporters that now totals 330 members. She also spearheaded the founding of the Academy of Engineering Excellence, which to date has recognized and celebrated the accomplishments of 135 outstanding alumni of the college.
James Torgersen, director of facilities for Virginia Tech Athletics and son of Paul Torgersen, said his father – a former engineering dean and university president — credited Nystrom with many of the college's successes. "She was instrumental in letting the whole country know what Virginia Tech engineering was doing and for that my dad was forever grateful."
Nystrom and the elder Torgersen formed a friendship that lasted decades, through his presidency of the university and later retirement. Torgersen, his wife Dorothea, and Lynn, gathered at least once per month for lunch where Lynn updated him on college news. When Paul Torgersen died in March after a long battle with cancer, James Torgersen said, "She was the first person I asked to speak at my father's funeral."
Among alumni she remained friends with was John Sparks, program director at Virginia-based Aerojet Rocketdyne. Nystrom and Sparks met when he was a master's student during the 1970s and featured in story she was writing for a college magazine. "She really was the woman behind the scenes in helping keep the college moving, expanding, and growing," said Sparks, a three-time mechanical engineering alumnus, earning bachelors, master's, and doctoral degrees. "I've been privileged to call her my friend."
Sparks was instrumental in helping the dean's office secure state funding and raise private money for the construction of Goodwin Hall, but credits Nystrom with recruiting him to the effort. "Whenever she emails or calls with a request for something for me to do, I'll drop what I'm doing to accommodate her. She has that effect on people. … She has a way of making you as an alumnus know that the college would appreciate you helping."
Nystrom was a member of the National Association of Science Writers, from which she won numerous awards. She was responsible for having Virginia Tech twice host the prestigious organization's national conference. "Lynn was such a public-relations pro, veteran science writers sought her counsel," added Hincker. "She knew many on a first-name basis and was a highly respected go-to colleague for them."
She was a member of the Virginia Press Association and the Virginia Professional Communicators (formerly called Virginia Press Women), the latter from which she won a Distinguished Service Award. Among her honors received at Virginia Tech was the President's Award for Excellence.
At her home, she owned and cared for horses, stray dogs and cats. She considered a successful weekend one in which she could ride her horse for hours, swim, and entertain family and friends. She hosted annual Fourth of July celebrations. She was a member of the New River Land Trust, a local nonprofit dedicated to preserving farmland, forests, open spaces, and historical sites across Southwest Virginia.
Nystrom earned her bachelor's degree in journalism from Radford University in 1972. She also had taken all of the course work for her master's degree in science and technology studies at Virginia Tech.
A native of Pompton Lakes, New Jersey, Nystrom is survived by her husband, Lawrence Newman, two step-daughters, Christy and Stacey; step-mother, Juanita Nystrom; several uncles, aunts, and life-long friends.
A celebration of her life is scheduled for 2 p.m. Wednesday, Dec. 16, at the German Club, 711 Southgate Drive, Blacksburg, Virginia.
In lieu of flowers, the family is encouraging donations be made to the Student Engineers' Council's Lynn Nystrom Engineering Organization Fund via the Virginia Tech Foundation or by check mailed to Virginia Tech, Engineering Dean's Office (0217), 3046 Torgersen Hall, 620 Drillfield Drive, Blacksburg, VA  2406. Please make checks to Virginia Tech Foundation, memo line, "Lynn Nystrom Engineering Organization Fund."