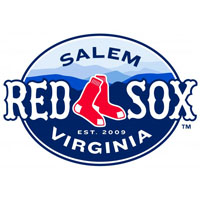 The Salem Red Sox scored seven runs in the first and four in the fourth, but it was not enough as Lynchburg battled back and scored three in the ninth to win 12-11. The walk-off was Lynchburg's seventh walk-out win of the season and second of the series.
The Red Sox struck early and often off of Hillcats starter Lay Batista, who lasted just one inning. With one away, Michael Miller singled and reached second on an error. He was driven home on a double by Ryan Dent to give the Sox a 1-0 lead. Kevin Heller was then hit by a pitch, followed by a single by Carson Blair which scored Dent. Mario Martinez walked to load the bases, and Aneury Tavarez singled home two runs to give Salem a 4-0 lead. Not done yet, Tim Roberson doubled home Martinez and Tavarez to make it 6-0. Then Matty Johnson singled home Roberson to cap off the 7-0 lead after a half inning.
Lynchburg would slowly claw their way back into the game beginning in the bottom of the first off of Sox starter Corey Littrell. With two outs, consecutive singles by David Nick and Kevin Ahrens put runners on second and third. Littrell then hit Levi Hyams to load the bases, and walked Daniel Carroll to make it 7-1.
Lynchburg added two in the second. Anthony Nunez and Jose Peraza both singled, which set up first and third with one out. Kyle Wren drove home Nunez on a sacrifice fly to make it 7-2. The a RBI triple by Nick scored Peraza to cut the lead to four.
But the Sox then put together a second big inning in the fourth. Michael Miller walked to start the frame, stole second, reached third on a sacrifice bunt, and scored on a single by Heller to make it 8-3. Then after a walk to Blair, Mario Martinez launched a three run homer off of Matt Chaffee, who had relieved Batista after the first, to make it 11-3.
The Sox would not score the rest of the way as Lynchburg slowly chipped away at the lead.
Lynchburg started the fourth off of Littrell with a walk by Nunez, and double by Peraza. Wren doubled home both runs to make it 11-5. Then Ahrens singled home Wren to make it 11-6. That chased Littrell who was relieved by Kyle Stroop.
Littrell finished with three and two thirds innings pitched, nine hits, six runs, two walks and zero strikeouts.
In the fifth, Peraza beat out a double play ball that scored Castro to make it 11-7. In the sixth, Nick singled and moved to third on a single by Aherns. Hyams hit into a double play, but it scored Nick to make it 11-8. Stroop was eventually replaced in the frame by Kyle Kraus, who allowed a hit to Castro that scored Daniel Carroll to make it 11-9.
The score would stay 11-9 until the bottom of the ninth. With Kraus still pitching, pinch hitter Eric Garcia doubled with one out. After Peraza grounded out, it looked like the Sox might be okay with two down in the ninth. But Kraus would allow a single to Wren that scored Garcia to make it 11-10. Then after Wren stole second, he was singled home by Nick to tie the game at 11. In replay like fashion, Nick would steal second, and score on a walk-off single by Ahrens to give the Cats their 20th hit and the victory.
With the loss, Salem drops two games below .500, and has lost eight of nine on the road. The Sox look to turn it around tomorrow when they travel to Frederick for the first time this season. Simon Mercedes goes for the Sox with Parker Bridwell on the hill for the Keys. First pitch is at 7:00.